Akari Tonegawa (利根川 朱里, Tonegawa Akari, born April 13, 1975 in Saitama, Japan) is a retired Japanese actress. She is best known for playing Sailor Jupiter/Makoto Kino in the Sailor Moon musicals.
She debuted in the Hana Yori Dango film as Yuriko Asai.
Biography
Early life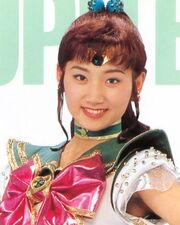 Akari Tonegawa was born on April 13, 1975 in
Saitama, Japan
. She made her film debut in the 1995 film,
Hana Yori Dango
as
Yuriko Asai
. In 1997 and 1998, Tonegawa portrayed
Sailor Jupiter
in the musical,
Pretty Soldier Sailor Moon ~ Eternal Legend
.
After several small roles on television, Tonegawa presumably retired sometime after her last credited role in 2004.
Filmography
Films
Television dramas
Year
Title
Role
Notes
1997
Suteki ni Onnazakari
Gekai Hiiragi Matasaburou 2
1998
Terminus
Yoshimi
Episode 8
Undercover Agent Shiho Kitami
Shizue Kiyohara
Episode 1
Hagure Keiji Jyunjouwa
2004
Undercover Agent Shiho Kitami
Episode 8
Stage
Notes
External links