Boys over Flowers (花より男子, Hana Yori Dango), officially abbreviated as Hana-dan (花男, Hana-dan),[2] is a manga series written and illustrated by Yoko Kamio. The manga was published in the magazine, Margaret by Shueisha from March 1992 to August 2003.[1] Viz Media licensed the series for release in North America, including the anime in 2003.[3][4] Discotek Media currently has plans to re-release the anime.[5]
The series was adapted into a series of audio dramas in 1993 and 1994 starring SMAP member, Takuya Kimura.[6][2] It was followed by a 1995 film starring Yuki Uchida, and a 1996 anime series.[1] The manga was also adapted into several television dramas, including Meteor Garden (2001) in Taiwan,[7] Hana Yori Dango (2005) in Japan,[8] and Boys Over Flowers (2009) in South Korea,[9] including several unauthorized and/or loosely-based versions.[10][11] In April 2015, Margaret announced the Hana Yori Dango musical adaptation,[12] which premiered on January 5, 2016.[13]
The manga follows pauper, Tsukushi Makino at the elite school, Eitoku Academy, and her run-ins with the school's clique, the F4. Kamio began a sequel to the series in February 2015, also set at Eitoku with the new clique, the Correct 5.[14]
Premise
Tsukushi Makino comes from a poor family, but attends the rich and rich school, Eitoku Academy. The school is ruled by the F4, four handsome sons of billionaires who terrorize the rest of the student population. Tsukushi tries to ignore them, before a chance encounter makes her stand up for herself.
Tsukasa Domyoji begins to bully her relentlessly, however he ends up falling in love with her. Tsukushi is unaware of his feelings, since she is interested in the more mysterious, Rui Hanazawa. Rui on the other hand only holds affections for his first love, Shizuka Todo. Shizuka leaves and Tsukushi encourages Rui to follow her. In Rui's absence, Tsukasa and Tsukushi begin to grow closer.
Manga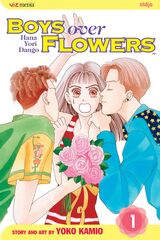 Boys Over Flowers was serialized in the manga magazine, Margaret from March 1992 to August 2003. The series reached thirty-six volumes in length by the end of it's run. Yoko Kamio penned a special chapter of the series in 2006 and additional two in 2008, leading to the release of the thirty-seventh volume, titled Boys Over Flowers: Jewelry Box by Viz Media. Shueisha published all thirty-seven volumes of the manga in Japan, and later reprinted the series into twenty volumes for the "Complete Edition".[1][15] It was licensed and released in North America by Viz Media.[3]
In 1996, the manga won the 41st Shogakukan Manga Award for the shojo category.[16] The series is currently the best-selling shojo manga of all time, having sold over 53 million copies[17] with a total 61 million copies in circulation.[18]
Sequel
Yoko Kamio began a sequel to the series titled, Boys Over Flowers Season 2 on February 15, 2015. It is simultaneously released Shueisha's Shonen Jump+ and Viz's VizManga website and app.[14]The series' third volume was published on March 4, 2016.[19]
Adaptations
Drama CDs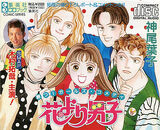 Hana Yori Dango was adapted into three audio dramas from July 1993 to July 1994.[6] All three were released on cassette and CD book.[1] The audio drama starred Takuya Kimura (from the boy band SMAP) as Rui Hanazawa, Chisa Yokoyama as Tsukushi Makino, and Takumi Nishio as Tsukasa Domyoji. Yoko Kamio sat in for part of the recording and was happy with the results. Kamio and Kimura later posed for pictures, which were published in Margaret.[20][2]
Live-action film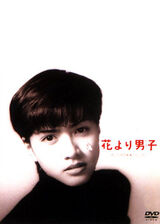 The first live-action adaptation of Hana Yori Dango was released on August 19, 1995. The film starred Yuki Uchida as Tsukushi Makino, Shosuke Tanihara as Tsukasa Domyoji and Naohito Fujiki as Rui Hanazawa.[21] The movie was released on VHS[22] and DVD in Japan.[23]
The theme songs for the film were Uchida's "Baby's Growing Up" and TRF's "Overnight Sensation".
Anime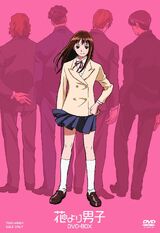 The anime was directed by Shigeyasu Yamauchi and produced by Toei Animation, Asatsu-DK, and ABC TV. It originally aired from September 8, 1996 to August 31, 1997 for fifty-one episodes.[24] The anime has been released on video cassette in 1997 and on DVD in 2006.[25] It was licensed by Viz in 2003,[4] and by Discotek Media in 2015.[5]
Hana Yori Dango: The Movie, a short film, was released on March 8, 1997 at the Spring Toei Anime Fair.[26][27] The film is set in alternate universe, where Tsukushi is an aspiring dancer on Broadway.[28]
Television dramas
Taiwan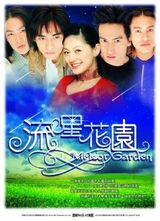 Meteor Garden was the first television drama adapted from Boys Over Flowers. Its success may have inspired some of the later dramas to be produced.[29][10] The series aired on CTS from April 12, 2001 to August 16, 2001. Barbie Hsu, Jerry Yan, and Vic Chou starred as Shan Cai (Tsukushi), Dao Ming Si (Tsukasa), and Hua Ze Lei (Rui).
The drama's high ratings led the network to produce two sequels, Meteor Rain and Meteor Garden II.[30] All three dramas were produced by Angie Chai.
Japan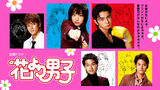 A Japanese adaptation of Hana Yori Dango aired from October 21, 2005 to December 16, 2005 for nine episodes.[31] Mao Inoue, Jun Matsumoto, Shun Oguri, Shota Matsuda, and Tsuyoshi Abe starred in the drama as Tsukushi and the F4 members.[8][32] The drama had high ratings with the highest being 22.4%.[1]
Hana Yori Dango Returns, a sequel, was produced and released in 2007 for broadcast on TBS.[33] The sequel also had high ratings with 27.6% for the final episode.[1] The series ended with the film, Hana Yori Dango Final in 2008.[34] The film was a box office success in Japan, earning over seven billion yen.[35]
South Korea
In later 2008, a South Korean adaptation of Boys Over Flowers was announced.[36] The drama aired from January 5, 2009 to March 31, 2009 for twenty-five episodes. It starred Ku Hye-sun (Geum Jan-di), Lee Min-ho (Gu Jun-pyo), Kim Hyun-joong (Yoon Ji-hoo), Kim Bum (So Yi-jung), and Kim Joon (Song Woo-bin).[37]
The drama had high viewership ratings throughout its entire run.[38] The popularity of the drama extended throughout Asia, including Japan,[39] Thailand,[40] the Philippines,[41] and Taiwan.[42]
Other
The series concept has become popular among many other countries, inspiring several unlicensed and/or loosely-based adaptations:
Musical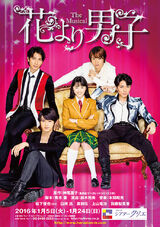 Hana Yori Dango: The Musical was annouced on April 19, 2015,[48] and the main cast announced on August 19, 2015. Ririka Kato won the role of Tsukushi Makino out of 3,000 other participants. Yuya Matsushita, Jin Shirasu, Mackenyu, and Ryuji Kamiyama will play the F4 members.[49] The musical will be held at Theatre Creation in Tokyo, Japan from January 5, 2016 to January 24, 2016. Performances will also be held in Fukuoka, Nagoya, and Osaka.
The full cast of the musical was revealed on September 18, 2015, including Nao Furuhata, Ryo Kimura, Nami Tamaki, Keigo Yoshino, and Tomoko Ikuta.[50] A press conference for the musical was broadcast live on October 23.[51] Practice for it began on November 18, 2015.[52] The musical premiered on January 5, 2016 at Theatre Creation in Tokyo, Japan.[13]
Related media
Video games
Three video games have been produced based on
Hana Yori Dango
:
Books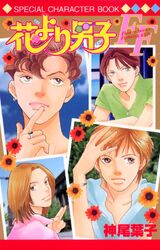 Several books dedicated to
Boys Over Flowers
have been published with only two by Yoko Kamio:
References
See also
External links
Ad blocker interference detected!
Wikia is a free-to-use site that makes money from advertising. We have a modified experience for viewers using ad blockers

Wikia is not accessible if you've made further modifications. Remove the custom ad blocker rule(s) and the page will load as expected.