Boys over Flowers (花より男子, Hana Yori Dango)[1] is an anime series based on the manga of the same name.[2] It originally aired from September 8, 1996[3] to August 31, 1997 for fifty-one episodes.[4] The anime was directed by Shigeyasu Yamauchi, and starred the voices of Maki Mochida, Naoki Miyashita, and Koji Yamamoto.
In 1997, the anime was followed by a short film set in an alternate universe.[5][6] The series has been released on VHS and DVD in Japan.[7] It was licensed by Viz Media for North America in 2003 to cross-promote their release of the manga.[8] Discotek Media bought the license in August 2015,[9] and released the entire series in a box-set in October 2016.[10]
After Tsukushi Makino (Mochida) begins attending Eitoku Academy, a chance event has her entangled with the F4 forever. Their leader, Tsukasa Domyoji (Miyashita), ends up falling for her, though she hates him at first. At the same time, she starts to like his friend, Rui Hanazawa (Yamamoto).
Summary
Tsukushi Makino (Maki Mochida), a second-year student at Eitoku Academy, feels out-of-place among her rich classmates. She tries to fade into the background after seeing the control the F4 has control over the school. One day, Tsukushi's friend, Makiko Endo (Fuko Misaki), angers the F4's leader Tsukasa Domyoji (Naoki Miyashita). When Tsukushi defends her, he sends her a red card, which is a signal for the other students to bully her. Tsukasa later orders a group of students to assault Tsukushi, but another F4 member, Rui Hanazawa (Koji Yamamoto) protects her. The next day, Tsukushi retaliates kicking Tsukasa in the face and declaring war on the F4.[11]
Just when things are looking up, Tsukasa kidnaps Tsukushi and brings her to his house, where she is given a makeover. He offers to let her spend time with him, which she absolutely rejects. Tsukasa still seems interested in her nonetheless. At school, three girls invite her to a party. However, it turns out to be an attempt to embarrass Tsukushi.[12] She gets revenge by revealing the girls true intentions to the party. The next day, they deliver a devastating blow to Tsukushi by informing her about Shizuka Todo (Keiko Imamura), Rui's first love. She then runs into the F4 members, Akira Mimasaka (Yuta Mochizuki) and Sojiro Nishikado (Yoshihiko Akaida), who tell her that Shizuka will soon return from France.[13]
After Shizuka arrives, Tsukushi resolves to distance herself from the F4 in order to avoid being hurt. Her childhood friend, Kazuya Aoike (Yoji Ietomi), transfers to Eitoku soon later. Tsukasa becomes instantly jealous of him and issues him a red card. Tsukushi tries to protect Kazuya, but the bullies corner them. Rui saves her again and demands that the bullying stops.[14] This angers Tsukasa, who ends his friendship with Rui. Afterwards, Shizuka shows her kindness by helping Tsukushi clean up in the girls' bathroom. She almost immediately begins to admire Shizuka. The next day, Tsukushi stays home with a fever. Tsukasa surprises her with a visit. He offers to pay for her to go on the school trip. She refuses, telling him she plans to go to Atami with Kazuya.[15]
Cast and characters
Staff
Original work: Boys Over Flowers by Yoko Kamio
Series director: Shigeyasu Yamauchi
Script writers: Aya Matsui, Genki Yoshimura, Reiko Yoshida, Yumi Kageyama
Episode directors: Akinori Yabe, Atsutoshi Umezawa, Ryo Tachiba, Shigeyasu Yamauchi, Takao Iwai, Yasuo Yamayoshi, Yoshihiro Oka
Producers: Hiromi Seki (Toei Animation), Takashi Horiuchi (Asatsu), Tetsu Rotake (ABC), Yasuo Kameyama (Asatsu)
Series coordination: Yumi Kageyama
Music: Michiru Oshima
Production chief: Atsunori Kazama
Art directors: Shinzo Yuki, Yuki Yukie
Animation directors: Chuji Nakajima, Hiroyuki Kawano, Mitsuru Aoyama, Tomoko Ito, Toshie Kawamura, Yasuhiro Namatame, Yoshihiko Umakoshi
Color scheme: Kunio Tsujita
Character design: Yoshihiko Umakoshi
Costume design: Toshie Kawamura
Episodes
Ep #
Title[18][7]
Airdate
1
"Declaration of War!"
"Sensen Fukoku!" (宣戦布告!)
September 8, 1996
2
"No Brand Girl!"
"Nōburando no On'na!" (ノーブランドの女!)
September 15, 1996
3
"I Won't be Hurt!"
"Kizutsui Tari Shinai!" (傷ついたりしない!)
September 22, 1996
4
"The Ordinary Duo!"
"Panpīna Futari!" (パンピーな二人!)
September 29, 1996
5
"Me, Him... and the Other Guy!"
"Kare to Atashi to Aitsu" (彼とあたしとアイツ)
October 6, 1996
6
"Cinderella for a Night"
"Ichiya no Shinderera" (一夜のシンデレラ))
October 13, 1996
7
"Atami Night Love"
"Koi no Ataminaito" (恋のアタミナイト)
October 20, 1996
8
"The Nightmare of the Fall Term!!"
"Shingaki no Akumu!!" (新学期の悪夢!!)
October 27, 1996
9
"Tsukasa Domyoji Snaps!"
"Dōmyōji Tsukasa Kireru!" (道明寺司・キレル!)
November 10, 1996
10
"The Woman Who Gave Up Everything"
"Subete o Suteru Josei" (すべてを捨てる女性)
November 17, 1996
11
"Love Beyond the Horizon"
"Ai wa Dai Soranokanatahe" (愛は大空の彼方へ)
November 24, 1996
12
"A Date in the Snow"
"Deto!? Yuki no Omotesandō" (デ-ト!? 雪の表参道)
December 1, 1996
13
"Love Moves Too Fast"
"Haya Sugiru Koi no Tenkai" (はやすぎる恋の展開)
December 8, 1996
14
"Sakurako's Secret"
"Sakurako no Kakusareta Himitsu" (桜子の隠された秘密)
December 15, 1996
15
"Get Lost!!"
"Tottoto Kiena!!" (とっとと消えな!!)
December 22, 1996
16
"Please Believe Me!"
"Atashi o Shinjite!" (あたしを信じて!)
December 29, 1996
17
"Mine at Last"
"Yatto Tsukamaeta" (やっとつかまえた)
January 5, 1997
18
"Will You Go Out with Me?"
"Ore to Tsukiawanai?" (俺とつきあわない?)
January 12, 1997
19
"Be Still My Beating Heart"
"Sazameku Mune no Kotori" (さざめく胸の小鳥)
January 19, 1997
20
"Night of Betrayal"
"Uragiri no Atsui Yoru" (裏切りの暑い夜)
January 26, 1997
21
"The Crime and Punishment of a Kiss"
"Kisu to Tsumitobachi" (キスと罪と罰)
February 2, 1997
22
"A Bewildering First Date!"
"Tomadoi no Hatsu Dēto" (戸惑いの初デート)
February 9, 1997
23
"The Arrival of Tsubaki Domyoji!"
"Dōmyōji Tsubaki ara Waru!" (道明寺椿あらわる!)
February 16, 1997
24
"Love's Tempest! Being Expelled!?"
"Ai no Arashi! Gakuen Tsuihō!?" (愛の嵐!学園追放!?)
February 23, 1997
25
"Two Ways to Love"
"Futari Sorezore no Ai" (人・それぞれの愛)
March 2, 1997
26
"Sleepless Night!"
"Nemurenai Futari no Yoru!" (眠れない二人の夜!)
March 9, 1997
27
"Tsukasa Goes to New York!!"
"Dōmyōji, N. Y e!!" (道明寺、N.Yへ!!)
March 16, 1997
28
"Tsukushi Goes to Canada!!"
"Tsukushi, Kanada e!!" (つくし、カナダへ!!)
March 23, 1997
29
"His Body Against Mine"
"Aitsu no Nukumori!" (アイツのぬくもり!)
March 30, 1997
30
"Do You Want a Friend?"
"Tomodachi, Iranai?" (友だち、いらない?)
April 6, 1997
31
"Shock! Horror! Another Red Card!"
"Shōgeki! Futatabime no Akafuda" (衝撃!二度目の赤札)
April 13, 1997
32
"Tsukasa Won't Come...?"
"Dōmyōji wa Konai?" (道明寺は・・・来ない?)
April 20, 1997
33
"Someday We'll Laugh..."
"Itsuka Waraeru hi" (いつか笑える日)
April 27, 1997
34
"The Woman in My Life!"
"Ore no Daijina On'nadesu!" (俺の大事な女です!)
May 4, 1997
35
"Lovers on the Run!?"
"Koi no Tōhikō!?" (恋の逃避行!?)
May 11, 1997
36
"Tsukasa's Mother's Secret Plan"
"Tsukasa no Haha no Hisokana Takurami" (司の母の密かな企み)
May 18, 1997
37
"It's Showdown Time!"
"Shikumareta Taiketsu!" (仕組まれた対決!)
May 25, 1997
38
"I Will Tame You!!"
"Chōkyō Shite Ageru!!" (調教してあげる!!)
June 1, 1997
39
"Love Triangle from Hell!"
"Ma no Toraianguru" (魔のトライアングル)
June 8, 1997
40
"The Turning of Love's Tide"
"Koi no Hikigiwa Bunkiten" (恋の引き際・分岐点)
June 15, 1997
41
"The Dawning of a New Day"
"Atarashī Hibi no Hajimari" (新しい日々の始まり)
June 20, 1997
42
"Surprise! A Double Date!"
"Battari! W Dēto" (バッタリ!Wデート)
June 29, 1997
43
"Deep Wounds of the Heart"
"Kokoro no Kizu wa Fukakute Omoi" (心の傷は深くて重い)
July 6, 1997
44
"You're Not the One"
"Omae ja Dameda!" (おまえじゃダメだ!)
July 13, 1997
45
"Open Up Your Heart"
"Sunao ni Nareba?" (素直になれば?)
July 20, 1997
46
"Hurricane Approaching"
"Harikēn Sekkin-chū!!" (ハリケーン接近中!!)
July 27, 1997
47
"New Student Shigeru Causes Shockwave!"
"Tenkōsei Shigeru no Hamon!" (転校生・滋の波紋!)
August 3, 1997
48
"Study Abroad!?"
"Ryūgaku Suru Shika nai?!" (留学するしかない?!)
August 10, 1997
49
"Our New Relationship"
"Futari no Atarashī Kankei" (二人の新しい関係)
August 17, 1997
50
"Time to Call It Quits"
"Mō Oshimai ni Shiyo" (もうおしまいにしよ)
August 24, 1997
51
"Neverending"
"Nebāendingu" (ネバーエンディング)
August 31, 1997
Short film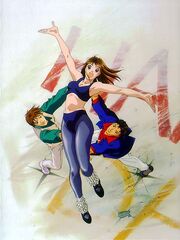 Main article: Hana Yori Dango: The Movie
Hana Yori Dango: The Movie premiered at the Spring Toei Anime Fair on March 8, 1997.[19] The staff and cast of the anime series returned to work on the film. The movie is set in an alternate universe, where Tsukushi is training to become a dancer on Broadway.[6]
Home video release
Main article: Boys Over Flowers home video releases
Japan first released the anime on twelve VHS tapes sometime in the late 1990s. The VHS release was for rental purposes only.[7] In 2006, they released the series and the film on a DVD box-set.[20] The DVDs were also published separately in 2007.
Viz Media licensed the series for a North American release in 2003 to coincide with their publication of the manga.[8] Discotek Media bought the license in 2015[9] and re-released the anime on a DVD box-set on October 25, 2016.[10]
Music
The opening song for the anime was "Ordinary Sunday" by Tomohiko Kikuta. The ending songs were "Kenka no Atode", also by Kikuta, and "Todoku Kana" by CaYOCO. "Ordinary Sunday" and "Kenka no Atode" were released together as a single. Two soundtracks, Encore Piece from Tsukushi and Variations "Hana-Dan", were released in 1996.
Merchandise
Main article: Boys Over Flowers merchandise
Several toys were created specifically for the anime, notably the "Inspee" and "Voicel", which are featured heavily throughout the anime. A guide book to the series was released in 1997. Various miscellaneous items were also released, such as a coloring book, a calendar, and a sketchbook, as well as a series of cards published by Carddass and Lami.
References
See also
v - e - d
Boys Over Flowers (anime)
External links