"Hi, I'm Yoko Kamio. Thank you so much for buying a copy of my Boys Over Flowers manga.♡ "
—Yoko Kamio, 1992
Boys Over Flowers 1 (花より男子 1, Hana Yori Dango 1) is the first collection of chapters from the manga series by Yoko Kamio. The volume was first published by Shueisha on October 23, 1992.[1] Viz Media licensed the series for release in North America[3] and published the first volume on August 6, 2003.[2] It contains the first five chapters of the series as well as Kamio's one-shot, "End of the Century".
Tsukushi Makino, an ordinary girl, attends a school populated by the children of Japan's wealthy. Four of these people call themselves the F4 and basically control the school. After months of witnessing them bully others, Tsukushi defies the F4 and angers their leader, Tsukasa Domyoji.
Book description
"Tsukushi Makino is accepted into the prestigious, Eitoku Academy. Life changes dramatically for Tsukushi when her friend falls on Tsukasa Domyoji. Tsukasa is the explosive leader of the "F4," a group of the most powerful, rich and handsome boys. Domyoji refuses to accept Makiko's apology and Tsukushi steps in to protect her friend. A red tag appears in the Tsukushi's locker the next morning which is a sign from the F4 that she is to be bullied by the school. Tsukushi continues to stand up to her oppressors."
Summary
Tsukushi Makino is an ordinary, middle-class girl attending the elite, Eitoku Academy. She tries her best to avoid the F4, a group of rich and handsome boys, who control the school's students and faculty. However, Tsukushi becomes disgusted with herself and her classmates for allowing the toxic environment to continue. One day, she protects her friend Makiko Endo, when the F4's leader, Tsukasa Domyoji, refuses to forgive her for accidentally falling on him. Tsukushi receives a red card, their "declaration of war", the next day. Makiko begins to avoid her, fearing the F4's wrath. Tsukushi decides to fight back and declares her own war on the F4.[5]
Later at school, the other students start to bully Tsukushi by throwing eggs at her and hiding her desk. She holds back tears as she runs to an emergency stairwell, where she meets the aloof F4 member Rui Hanazawa. He offers her no sympathy, though he later saves her, when some boys attempt to assault Tsukushi on Tsukasa's orders.[6] Tsukushi returns to school with a new vigor, easily foiling her bullies. She then kicks Tsukasa in the face, saying "you cal yourself a man". The kick, reminds of his beloved older sister and sends him into shock. After the incident, Tsukushi's popularity rises among the students and Tsukasa decides his next move.[7]
Tsukasa kidnaps Tsukushi and brings her to his mansion, where his servants give her makeover. He comments "that even an ordinary girl like [her] will shine when polished." Tsukasa then offers for her to be around him. Tsukushi does not fall for his attempt to buy her and storms out, telling him "I'm not for sale". She happens to meet Rui on his way home and learns a smile, especially Rui's, is one thing that cannot be bought with money.[8] The next day, vicious rumors are written about Tsukushi on the blackboard of her homeroom. She immediately assumes Tsukasa is the culprit and confronts him.[9]
Tsukushi finds three girls, Yuriko Asai, Erika Ayuhara, and Minako Yamano cleaning the blackboard, when she returns to her homeroom. They invite her to a party in Roppongi, a popular night life spot in Tokyo. Tsukushi hesitates at first, but eventually decides to go after consulting her best friend, Yuki Matsuoka. At the party, she quickly realizes they lied about it being casual. They make fun her dress and embarrass her in front of the other guests. Tsukushi realizes that they are the true perpetrators of the rumor. They are jealous of the recent attention Tsukushi has got from the F4.[9]
Content
See also: List of Boys Over Flowers chapters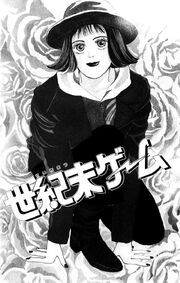 Editions
See also: Foreign editions of Boys Over Flowers
Notes
The cover image of this volume was first published on the cover of Margaret No.13 in June 1992.[17][10] It was also included in Yoko Kamio's art book dedicated to Boys Over Flowers.
This volume and volume two are the only ones of have "Story and Art by Yoko Kamio" on the spine of the book in Viz's edition. The following volumes list her name only.
The sentence "saw Rie Miyazawa, the actress!" from the second side-column was accidentally reprinted in the third side-column after the sentence, "As a child, I had big dreams..." in Viz's edition.
In the Viz edition, "to be continued in volume 2" is printed on the last page of the short story "End of the Century". This is an error and refers to Boys Over Flowers not the one-shot.
References
See also
External links