"I'm so excited to draw Eitoku Academy again! I hope even those of you who haven't read the previous Boys Over Flowers books will enjoy this new series. Look forward to more volumes to come!"
—Yoko Kamio, foreword
Boys over Flowers Season 2 1 (花のち晴れ〜花男 Next Season〜 1, (花のち晴れ〜花男 Next Season〜 1 Hana Nochi Hare ~HanaDan Next Season~ 1) is the first collection of chapters of the Boys Over Flowers sequel. The volume was first published by Shueisha on July 3, 2015.[1] Viz Media released it digitally in America on December 22, 2015.[3] It sold an estimated 67,620 copies by July 12 in Japan.[4] The volume contains the series' first six chapters.
Oto Edogawa, from a recently bankrupted family, goes to the elite school Eitoku Academy. The Correct 5, led by Haruto Kaguragi, vow to remove all the poor students to preserve the school's reputation. Haruto learns about Oto's secret, when he discovers her working at a convenience store.
Book description
"Poor Oto Edogawa can't seem to catch a break. When her wealthy family loses its fortune, she keeps up pretenses at her elite school for the super rich, Eitoku Academy, by supporting herself with a low-wage convenience store job. If the self-appointed guardians of the school and successors of the legendary "F4," the "Correct 5," discover her secret poverty, she'll be expelled! But none of them would ever stoop to shop at a plebeian convenience store...right?"
—Viz description[2]
Summary
After the F4 graduated, Eitoku Academy has suffered a fall in reputation. The Correct 5's leader Haruto Kaguragi, whose hero is Tsukasa Domyoji, hopes to restore Eitoku to its former glory by weeding out the poor students. Oto Edogawa works at a convenience store and fears that the Correct 5 will learn her secret. One day, Haruto walks into the store to retrieve his mail-order items. Both become scared that the other will expose their secret. At school, Haruto tells Oto to leave, before they see another student being harassed. Oto calls him "pathetic" for not helping. Bolstered by Oto's words, Haruto punches the harasser and gains a new-found confidence.[5]
Haruto remains fearful that Oto will out his secret to the school. He consults the rest of the Correct 5 for advice. Issa Narumiya suggests for him to make Oto his girlfriend. Haruto takes his advice, and invites Oto and her co-workers to a barbecue at his home. Oto only reluctantly goes along with it. At the barbecue, Haruto talks down to them, which irritates Oto. She takes a piece of beef and slaps it with him.[6] Oto then calls him "the worst", before promptly leaving. Embarrassed by the incident, Haruto spies on Oto at work. Her co-worker follows her as she walks home that night. He grabs her and Haruto kicks him in the back.[7]
After saving Oto, Haruto accidentally admits to following her, which she calls "creepy". Oto later realizes that something worse may have happened if not for Haruto. Meanwhile, Haruto agonizes over being called "creepy", when a maid tells him someone is at the gate. It is Oto, who thanks him saving her. Airi Maya sees the exchange from nearby.[8] At school, Airi asks Kaito Taira about Oto and enlists his help on figuring out her identity. Haruto overhears Oto and her friends discussing a pancake shop. He invites her to go eat with him the following Sunday. That Saturday, Airi spots Oto with a guy.[9]
On Sunday, Haruto nervously gets ready to go meet Oto. He arrives dressed as a cowboy since his horoscope's "lucky item" was a western movie. They walk to the pancake shop, which appears to be closed. However, Haruto walks in and reveals that he bought the restaurant to avoid lines. Oto becomes suspicious of his motivations and she insists that she will not reveal his secret. Haruto asks her about her reason for wanting to stay at Eitoku. He assumes it is because of the F4 and takes her on a "pilgrimage" to their houses. At Tsukasa's house, Oto confesses that the real reason she is staying at Eitoku is because she is engaged.[10]
"Afterword Story"
Sojiro Nishikado and Akira Mimasaka greet new readers and summarize Boys Over Flowers with a four-panel comic. The two become irritated that the sequel series does not feature them as the main characters. They joke about the name "Correct 5" and spy on Haruto, surrounded by photos of Tsukasa Domyoji. After one look, Sojiro exclaims "that's creepy..." and the story ends with the narrator speculating about Haruto's future.
Content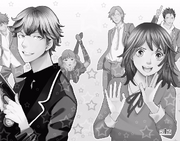 Chapter 1: the first installment of Boys Over Flowers Season 2, published on February 15, 2015.[11] The chapter sets up the series and introduces the main characters.
Chapter 2: published March 1, 2015, it continues the story from the previous chapter. Haruto is worried that Oto will expose his secret and invites her to his mansion.
Chapter 3: Haruto, still worried that Oto will expose him, follows her to work and saves her from a co-worker. The chapter was published on March 14, 2015 in both Japan and America.
Chapter 4: first published March 28, 2015 on Shonen Jump+ and Viz's website. Haruto becomes depressed after Oto calls him "creepy".
Chapter 5: Continuing the story, Airi investigates the mysterious girl she saw outside Haruto's house. The chapter was published on April 12, 2015.
Chapter 6: published on April 26, 2015 in both Japan and America. Haruto and Oto begin to become friends, after he asks her to eat pancakes with him.
Bonus: also titled "Afterword Story", a four page comic featuring Sojiro Nishikado and Akira Mimasaka from Boys Over Flowers. The two summarize the previous series for new readers.
Character profiles: the volume includes new information on Oto and the Correct 5 members. Their birthday, age, height, personality, hobbies, as well as their favorite word, are among the items listed.
Editions
See also: Foreign editions of Boys Over Flowers
South Korea: this volume and the next were published on April 29, 2016 by Seoul Media Group as 꽃보다 맑음1.[14] A glasses case and two kinds of illustration cards were available with the release.
Taiwan: Tong Li Comics published the volume as Meteor Garden Next Season 1 (流星花園~Next Season~1) on January 4, 2016.[15]
Notes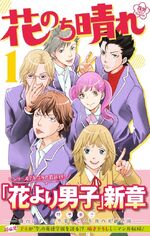 The volume was originally published in Japan with a special dust jacket called an obi, which describes the series and connects it with Kamio's original work, Boys Over Flowers.
Oto Edogawa is also featured on the back cover of the volume.
Along with volume two, Yoko Kamio signed an unknown number of copies of this book for the Animate Girls Festival, held on November 7 and 8, 2015. The sale was limited to one volume per person.[16]
The volume was published on the same day as the launch of the smart phone app, Hana Yori Dango: F4 and First Kiss. Some limited avatar items were available for the app provided by a serial code in the volume.[17][18]
The cover image of this volume was also used on a script cover for Hana Nochi Hare.[19]
References
See also
External links