"It's already volume 3. That went by fast. The F4 and Tsukushi pop up in my head a lot when I'm drawing this series. I feel like they probably want to be in the story too."
—Yoko Kamio, 2016
Boys Over Flowers Season 2 3 ( 花のち晴れ〜花男 Next Season〜 3, 花のち晴れ〜花男 Next Season〜 3 Hana Nochi Hare ~HanaDan Next Season~ 3) is the third volume of Boys Over Flowers Season 2 by Yoko Kamio. The volume was first published on March 4, 2016 by Shueisha and consists of chapters fourteen through twenty.[1] It has sold 72,134 copies as of March 13, 2016.[3] The volume was published digitally by Viz Media on June 28, 2016.[2]
Haruto Kaguragi and Oto Edogawa patch things up, after the events of the previous volume. However, Airi Maya begins acting more and more erratic, starting with locking Oto and Tenma Hase in a basement. After the incident, Airi goes missing and the Correct 5 scrambles to find her.
Book description
"Haruto Kaguragi, leader of the most exclusive clique at Eitoku Academy, owns up to his love for poor student Oto Edogawa by tracking down the instigator of the bullying incident that nearly forced her to leave school. When it turns out the culprit is his jealous childhood friend Airi, he reprimands her. Shattered and repentant, Airi apologizes to Oto and asks to be friends...but is she really over Haruto?"
—Viz description[4]
Summary
Coming Soon!
Content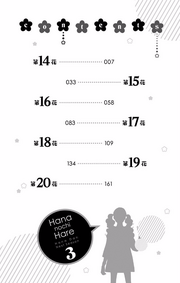 Chapter 14: published on October 18, 2015,[5] the chapter continues from the cliffhanger of chapter thirteen. Haruto Kaguragi visits Oto Edogawa and they become friends again, after a misunderstanding.
Chapter 15: Oto and Haruto are hanging out with Konno and Mi-tan, when Airi Maya suddenly shows up. The chapter was released on November 1, 2015.[5]
Chapter 16: Airi tricks Oto and locks her in a basement with Tenma Hase. It was published on November 15, 2015.[5]
Chapter 17: Haruto rescues Oto and Tenma from Airi's basement. The chapter was released in Japan and America on November 29, 2015.[5]
Chapter 18: Airi goes missing, and Oto and Haruto go looking for her. It was published on December 13, 2015.[5]
Chapter 19: published on December 27, 2015.[5] Airi visits Oto and takes her to see Haruto.
Chapter 20: the chapter was published on January 10, 2016 by Shonen Jump+.[6] The chapter continues the plot of the previous.
"Bonus Story": originally published as "Bonus Story 2" on January 24, 2016.[5] The story portrays the unlikely friendship between Airi and Oto.
Editions
See also: Foreign editions of Boys Over Flowers
South Korea: on September 30, 2016, Seoul Media Group released the volume as 꽃보다 맑음3.[7]
Taiwan: the volume was published as Meteor Garden Next Season 3 (流星花園~Next Season~3) on August 18, 2016 by Tong Li Comics.[8]
Notes
Yoko Kamio posted a sample picture of the cover on her Twitter on February 15, 2016.[9]
Hana Yori Dango: F4 and First Kiss held a quiz in honor of the volume's release in early March. A dress matching one of Airi Maya's was available as an award for the player's avatar.[10] The game was also advertised on the book's obi.
Kamio signed and drew pictures of Airi in a few copies of this volume for her assistants and others.[11]
References
See also
External links