"I joined the Twitterverse at the beginning of the year. It's so convenient and fun to be able to interact with my readers and let them known about any manga news."
—Yoko Kamio, 2016
Boys Over Flowers Season 2 4 ( 花のち晴れ〜花男 Next Season〜 4, 花のち晴れ〜花男 Next Season〜 4 Hana Nochi Hare ~HanaDan Next Season~ 4) is a volume of the manga, Boys Over Flowers Season 2 by Yoko Kamio. It was published on July 4, 2016 by Shueisha.[1] As of July 17, 2016, it has sold 82,062 copies in Japan.[3] The volume was also released digitally on October 25, 2016 by Viz Media.[2] It includes chapters twenty-one through twenty-seven as well as two bonus stories.
Haruto Kaguragi meets Megumi Nishidome at a hot spring and runs away after seeing her naked. She later visits Eitoku to return his wallet. Megumi gradually develops feelings for Haruto. Meanwhile, Oto Edogawa decides to start dating Tenma Hase for real.
Book description
"Haruto Kaguragi, leader of the most exclusive clique at wealthy Eitoku Academy, has realized his feelings for poor student Oto Edogawa. But after Haruto has a chance encounter with the beautiful model Megurin—in the bath!—his love life takes a new direction, whether he wants it to or not. Is love in the water for the leader of the Correct 5 and the current It Girl...or is Haruto in hot water with Oto?"
—Viz description[4]
Summary
Haruto Kaguragi runs from the resort's bath, after accidentally seeing a naked girl. He takes Oto Edogawa home that night and keeps the incident a secret. The next day, the girl, Megumi Nishidome, who is also a popular model, visits Eitoku to return Haruto's wallet.[5] Haruto is less than enthusiastic to see her and immediately tries to get her to leave. Oto sees the two of them talking. Haruto attempts to explain the situation, but she tells him that "it has nothing to do with [her]." She then runs into Airi Maya and tells her that she was "mistaken" about Haruto being in love with Oto. He is devastated by the turn of events and angrily shouts "why".[6]
After Oto's comment, Haruto wanders around dejectedly as Megumi follows him. She encourages him to clear the air with Oto. However, Haruto does not have the strength right now to face her. Hearing Haruto's honest feelings, Megumi tells him to practice on her. He reluctantly says "I like you." Megumi begins developing a crush on him at this point.[7] After a hard day, Oto coincidentally meets Tenma Hase, who cheers her up. For their monthly date, the two of them go to an aquarium, where they see Megumi. She confesses to harboring feelings for Haruto. Oto decides to date Tenma for real and asks him to "go out with [her]."[8]
Megumi visits Haruto at his mansion later that night. She attempts to cheer him up by cooking him a meal. However, her cooking is horrible and makes Haruto gag. It does make him come a realization. He decides to confess his feelings to Oto and rushes to her work with Megumi following him. When he gets to there, he finds her talking with Tenma about their date.[9] In shock, he runs home and throws away everything in his treasure vault. A few days later, Megumi transfers to Eitoku for Haruto, though is does not appear to care. Haruto picks a fight with three thugs, who beat him up in an alley. Megumi pleads with him to "stop hurting [him]self."[10]
Airi informs Oto that it is "just a matter of time" before Haruto and Megumi start dating. She is upset that Oto ended up dating Tenma instead of Haruto, though she takes the news relatively well. That night, Tenma invites Oto on a date to an amusement park. The date will be their first outside of their usual meetings on the twentieth of each month. At school, Megumi approaches Oto. She asks if it is okay for her to pursue Haruto. Oto relates that "[she has] nothing to with him." Megumi resolves to ask Haruto on a date. At the amusement park, Oto and Tenma ride a roller-coaster, causing her to feel sick. Lying on a bench, she sees Haruto directly across from her.[11]
Contents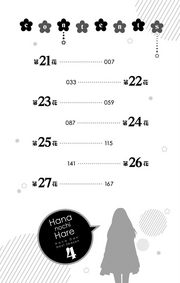 Editions
See also: Foreign editions of Boys Over Flowers
South Korea: volume four was published on October 30, 2016 by Seoul Media Group as 꽃보다 맑음4.[20]
Taiwan: the volume was published as Meteor Garden Next Season 4 (流星花園~Next Season~4) on December 8, 2016 by Tong Li Comics.[21]
Notes
Kamio posted a photo of the cover on her Twitter on May 17, 2016.[22]
The author signed and drew pictures of Tenma Hase in three copies of this volume for her assistants.[23]
References
See also
External links