"This is volume 6. Thank you very much for your purchase! I decided to try online serialization in hopes that people would find it convenient to read on their commute to school or work, during a break from chores or right before bed."
—Yoko Kamio, 2017
Boys over Flowers Season 2 6 (花のち晴れ〜花男 Next Season〜 6, (花のち晴れ〜花男 Next Season〜 6 Hana Nochi Hare ~HanaDan Next Season~ 6) is the sixth collected edition of Boys Over Flowers Season 2 by Yoko Kamio. It was published in Japan on April 4, 2017.[1] By April 16, the volume sold an estimated 59,517 copies.[3] Viz Media released it digitally on October 24, 2017.[2] The volume consists of chapters thirty-six through forty-two.
Oto Edogawa learns that Momonozono's vice president, Hitoshi Konoe, is behind the attacks on Eitoku students. When Konoe acts innocent, Tenma Hase believes that Oto is mistaken. Haruto Kaguragi defends Oto, causing an argument between him and Tenma.
Book description
"Haruto Kaguragi stands atop the wealthy elite of Eitoku Academy, but he's secretly in love with its poorest student, Oto Edogawa. After hearing that Oto plans to transfer to rival Momonozono Academy, Haruto says things he doesn't mean. Angry and hurt, Oto is then confronted by Konoe for meeting up with Haruto. And Megumi bares her soul (and more!) to comfort a depressed Haruto."
—Viz description[4]
Summary
Coming Soon!
"Bonus"
On New Years', Haruto tags along with Oto and Tenma on their shrine visit. Tenma is irritated by Haruto's face and Oto apologizes. Haruto mocks Tenma, saying "I'm the main character of this story." They begin opening their fortunes. Tenma gets "great luck", while Oto has "good luck." Haruto gets "bad luck" and refuses to tell the others what he got. Oto smiles and asks him if he wants to trade. Haruto deems her smile to be "great luck."
Contents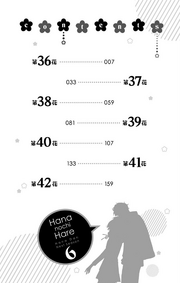 Editions
See also: Foreign editions of Boys Over Flowers
South Korea: it was released under the title 꽃보다 맑음6 on October 30, 2017 in South Korea.[12]
Taiwan: on June 12, 2017, Tong Li Comics published the volume as Meteor Garden Next Season 6 (流星花園~Next Season~6).[13]
Notes
References
See also
External links