"I love reading books and watching movies. I enjoy foreign cop drama books, and when it comes to movies I tend to watch action and suspense horror. I rarely watch romance movies. Come to think of it, I don't really read romance manga either... That's not good given that I draw shojo manga."
—Yoko Kamio, 2017
Boys over Flowers Season 2 7 (花のち晴れ〜花男 Next Season〜 7, (花のち晴れ〜花男 Next Season〜 7 Hana Nochi Hare ~HanaDan Next Season~ 7) is a collection of the series, Boys Over Flowers Season 2 by Yoko Kamio. It was published in Japan by Shueisha on August 4, 2017.[1] The volume sold 28,822 during the first week of August,[3] and has sold 60,703 copies as of August 13.[4] It was published digitally in English on January 23, 2018.[2]
Book description
"The rivalry between elite schools Eitoku Academy and Momonozono Academy turns into an all-out battle when Tenma Hase, Momonozono's student council president and fiancé of Oto Edogawa, challenges Haruto Kaguragi, the leader of Eitoku's Correct 5 and Edogawa's would-be suitor, to a showdown at the Manly Man Festival! Haruto's at an overwhelming disadvantage against martial arts expert Hase, but with some help from Sojiro Nishikado of the F4, he prepares to win the fight…and Edogawa's heart!"
—Viz description[5]
Summary
Contents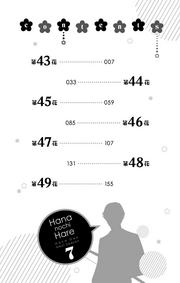 Editions
See also: Foreign editions of Boys Over Flowers
Sourth Korea: Seoul Media Group released the volume in Korea as 꽃보다 맑음7 on February 28, 2018.[13]
Taiwan: the volume was published as Meteor Garden Next Season 7 (流星花園~Next Season~7) by Tong Li Comics on November 27, 2017.[14]
Notes
Yoko Kamio revealed the cover of the volume on her Twitter on July 20, 2017. Haruto and Oto are featured the front, while Sojiro is pictured on the back.[15]
Kamio autographed and drew Sojiro in two copies of this volume for her assistants.[16]
References
See also
External links