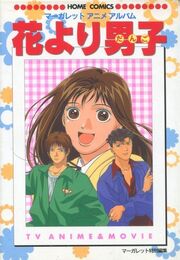 Boys Over Flowers is an anime series based on the manga of the same name by Yoko Kamio. Bandai released several toys, many of which appeared in the anime. Banpresto also released a series of plush toys, and Carddass and Lami published a series of cards based on the Hana Yori Dango anime. Shueisha also published a guide book dedicated to the anime.
Bandai
Bandai partnered with the Boys Over Flowers anime to release several toys in 1996. Many of the toys appeared in the anime, including the "Inspee" and "Voicel".
Banpresto
Banpresto, a Bandai subsidiary, released six plush dolls (also known as UFO catchers) in the late 1990s. The dolls are modeled after Tsukushi Makino, Tsukasa Domyoji, Rui Hanazawa, Sojiro Nishikado, Akira Mimasaka, and Shizuka Todo.
Books
Cards
Several trading card series featuring Boys Over Flowers have been released:
Carddass
Bandai's subsidiary Carddass released a series of cards in 1996.[1][2]
Lami
Lami released two sets of cards based off Hana Yori Dango. The first set had three cards, while the second had five.[3]
Misc
Miscellaneous
References
See also