"I'm not letting you get away with this anymore! This is my declaration of war!"
—Tsukushi Makino decides to fight back against the F4.
The first chapter of Boys Over Flowers written and illustrated by Yoko Kamio was published in March 1992 in Margaret No.8.[1] The chapter was later included in volume one. It introduces the principal characters of the series, including Tsukushi Makino and the F4 members.
At Eitoku Academy, Tsukushi Makino's friend, Makiko Endo angers the leader of the F4, Tsukasa Domyoji. Tsukushi stands up for Makiko, receiving all of the F4's wrath. In the end, Tsukushi decides to fight back.
Plot
Tsukushi Makino
attends the affluent school,
Eitoku Academy
located in
Yamanote, Tokyo
. She and her friend,
Makiko Endo
are both from middle-class families, unlike most of their rich classmates. The two walk into their classroom and see
Kimoto
pack his belongings and leave. He had previously incurred the
F4
's wrath, which ultimately led to him leaving Eitoku.
Feeling angry that she can do nothing to help Kimoto, Tsukushi runs to an emergency stairwell and yells out her frustrations. An unwitting Rui Hanazawa witnesses the spectacle. Tsukushi remembers how her mother forced her to attend Eitoku, despite her protests. She resolves to "stay quiet and unnoticed" and plans to ride out the next two years.
After school, Tsukushi and her classmates are cleaning the classroom, when a student gets dust on Tsukasa Domyoji's pants. Tsukasa, the F4's leader, orders him to blow the dust away and knocks over a trashcan on his way out. Another member of the F4, Rui Hanazawa, picks up the trashcan and looks at Tsukushi briefly, which causes her to blush. At work, Tsukushi recounts her day to her best friend, Yuki Matsuoka. Yuki wonders out loud what has happened to Tsukushi, who regularly defended others in middle school.
The following day, Tsukushi and Makiko walk to class together. Makiko slips down the stairs and lands on Tsukasa. She quickly apologizes, but Tsukasa ignores all her pleas. Tsukushi stands up for Makiko, placing Tsukasa's anger on herself. She arrives at school the next day and finds the F4's notorious red slip in her locker. She decides to fight back and delivers her own red slips to the F4, saying "This is my declaration of war!"
Character appearances
Production and release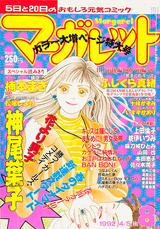 Kamio originally based Tsukasa's image off of
Christian Slater
, an American actor, whose "malevolent expressions" Kamio was a fan of. Over time, she stated that he began to look more like the musician,
Prince
. Kamio also stated that she wanted Tsukasa's hair to be dreadlocks, instead it turned out how it appears in this chapter. One of her assistants compared his hair to
Marie Antoinette's
.
[2]
Yoko Kamio launched Boys Over Flowers in the March 1992 issue of Margaret, a manga magazine published by Shueisha.[1] The manga was Kamio's second multiple volume series, after Mary-san no Hijitsu, which she finished a few months prior to Boys Over Flowers. Kamio worked solely on Boys Over Flowers on until its end in August 2003.
Notes
An aside compares Tsukushi screaming her frustrations at the stairwell to an ancient Greek myth. In the story, King Midas has donkey ears and asks his barber to keep it a secret. The secret drives the barber to dig a hole and yell "the king has donkey ears!" in order to still keep his word.[3]
Sojiro sings the chorus of "You're No Good" after Tsukasa kicks over a trash can on purpose.
References
See also
External links
Ad blocker interference detected!
Wikia is a free-to-use site that makes money from advertising. We have a modified experience for viewers using ad blockers

Wikia is not accessible if you've made further modifications. Remove the custom ad blocker rule(s) and the page will load as expected.