Chapter 145 of Boys Over Flowers was published in Margaret No.19 on September 5, 1998.[1]
Plot
Coming Soon!
Character appearances
Production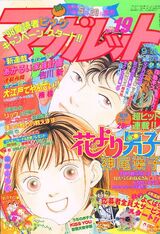 Chapter 145 was published in manga magazine,
Margaret
No.19 on September 5, 1998.
[1]
The
furoku
included in with magazine was a small notebook, titled "Okawari Notebook". A
Boys Over Flowers
clock and an organizer were advertised on the cover.
[2]
References
See also
Ad blocker interference detected!
Wikia is a free-to-use site that makes money from advertising. We have a modified experience for viewers using ad blockers

Wikia is not accessible if you've made further modifications. Remove the custom ad blocker rule(s) and the page will load as expected.