Chapter 173 of Boys Over Flowers by Yoko Kamio was published in Margaret No.5 on February 5, 2000. The chapter was preceded by chapter 172 in February and followed by 174 in March.[1]
Akira Mimasaka and Sojiro Nishikado lock Tsukushi Makino and Tsukasa Domyoji in Akira's guest house. At the same time, Yuki Matsuoka confesses to Sojiro that she wants to support Tsukushi.
Plot
Coming Soon!
Character appearances
Production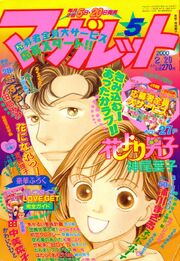 The chapter was published in the fifth issue of
Margaret
on February 5, 2000.
[1]
Tsukushi and Tsukasa were featured on the cover of the issue. A
telephone phone card
with an image of the couple was possibly included with the magazine.
The front page of this chapter was later used for the cover of the twenty-fifth volume of Boys Over Flowers, which was published on February 25, 2000.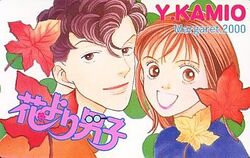 References
See also
Ad blocker interference detected!
Wikia is a free-to-use site that makes money from advertising. We have a modified experience for viewers using ad blockers

Wikia is not accessible if you've made further modifications. Remove the custom ad blocker rule(s) and the page will load as expected.