Eisuke Yoshida (吉田 栄介, Yoshida Eisuke) was a famous celebrity, who attended Shizuka Todo's birthday party. He was spotted speaking to Mikihisa Minami at the party.
Biography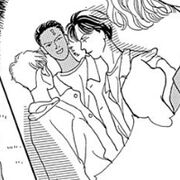 He was at
Shizuka Todo's
twentieth birthday party. Eisuke spoke to fellow celebrity,
Mikihisa Minami
at the party. They were recognized by
Yuki Matsuoka
. Yuki remarked that they were "better looking" in person.
[1]
Behind the scenes
Appearances
Boys Over Flowers
Volume 1
Volume 2
Volume 4
Volume 5
Volume 6
Volume 7
Volume 8
Volume 9
Volume 10
Volume 11
Volume 12
Volume 13
Volume 14
Volume 15
Volume 16
Volume 17
Volume 18
Volume 19
Volume 20
Volume 21
Volume 22
Volume 23
Volume 24
Volume 25
Volume 26
Volume 27
Volume 28
Volume 29
Volume 30
Volume 31
Volume 32
Volume 33
Volume 34
Volume 35
Volume 36
Jewelry Box
References