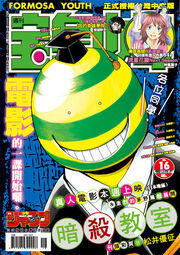 Formosa Youth
(寶島少年
Báodǎo Shàonián
, "Taiwan Teenager") is a weekly Chinese language manga magazine created by
Tong Li Publishing
for Taiwan.
Formosa Youth
features various series from the Japanese manga magazine,
Weekly Shonen Jump
.
Dragon Youth Comic
(龍少年
Lóng Shàonián
) is a sister publication of the magazine and specializes in local
manhua
.
During 1992, Tong Li created many manga and manhua magazines, including Formosa Youth and Margaret.[1] Tong Li currently publishes Boys Over Flowers Season 2 in the magazine, starting with their March 2015 issue.[2][3]
References
See also
External links