Tsukasa: "I'll never quit worrying about you. But I can't do anything about it. That's because I'm crazy about you, Tsukushi Makino. If you turn to someone else, I'll take you back every time. No matter what."
Tsukushi: "Tsukasa, I had no idea I'd be this lonely. I thought four years would go by so quickly. Each day has been so long. I really wish I could make all the clocks in the world go faster."
The France Story[2] is a special chapter of Boys Over Flowers by Yoko Kamio. It was released in Margaret No.15 on July 5, 2006.[1] The chapter was later published in volume thirty-seven, after the publication of the two-part Rui Hanazawa story.
Tsukushi Makino is about to graduate from high school, when a misunderstanding arises between her and her boyfriend, Tsukasa Domyoji. Determined to see him, Tsukushi travels with the rest of the F4 to attend Shizuka Todo's wedding in Paris.
Plot
Coming Soon!
Character appearances
Development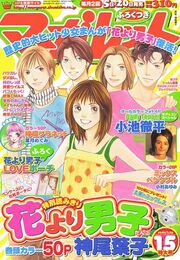 After a three year absence from the series, Yoko Kamio returned to Boys Over Flowers with an unnamed special chapter, similar to a one-shot. The story was published in the fifteenth issue of Margaret in July 2006. Furoku, a pencil case with Tsukushi and Tsukasa pictured on it, was included with the issue. A Saturn necklace was also available for a hundred people.[3][4]
Initially, Kamio had planned to set the story four years later from the end of the series. However, she decided that Tsukasa and Tsukushi's long-distance relationship would not have gone smoothly and set the story one year later to portray it. She also set the story in France to show Shizuka and her wedding.[3]
Kamio modeled the outside of the church after Chartres Cathedral, and the inside after Mont Saint-Michel, which she researched on a scouting trip to France.[3]
References
See also