Hana Nochi Hare: Hanadan Next Season (花のち晴れ 〜花男 Next Season〜), (花のち晴れ 〜花男 Next Season〜) is an upcoming television drama based on Boys Over Flowers Season 2 by Yoko Kamio. It began airing in April 2018 on TBS.[1] The drama will be directed by Yasuharu Ishii and produced by Katsuaki Setoguchi, who both worked on Hana Yori Dango (2005).[2][3]
The story takes place ten years after Hana Yori Dango Final (2008).[2] Hana Sugisaki will star as the series' heroine, Oto Edogawa. Sho Hirano and Taishi Nakagawa will play opposite her as Haruto Kaguragi and Tenma Hase.[4] Hana Nochi Hare premiered on April 17, 2018. It currently airs weekly on Tuesdays at 22:00.[5]
Premise
After her father's company went bankrupt, Oto Edogawa (Hana Sugisaki) has kept it a secret from her classmates at Eitoku Academy. The school is no longer popular since the F4's graduation. To restore Eitoku's reputation, Haruto Kaguragi (Sho Hirano) formed the Correct 5 with Kaito Taira (Tatsuomi Hamada), Airi Maya (Mio Imada), Sugimaru Eibi (Keisuke Nakata), and Issa Narumiya (Jin Suzuki). The Correct 5 conduct "peasant hunts", forcing the school's poor students to withdraw. Oto avoids the group in order to stay at Eitoku, which is a condition of her arranged engagement to Tenma Hase (Taishi Nakagawa).[6]
Cast and characters
| | |
| --- | --- |
| Starring | Guest starring |
Staff
Episodes
Production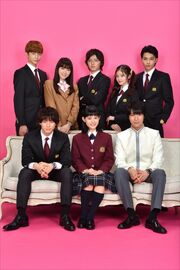 On January 24, 2018, an adaptation of
Yoko Kamio's
Boys Over Flowers Season 2
, a sequel to her
Boys Over Flowers
, was announced. Up-and-coming actors
Hana Sugisaki
,
Taishi Nakagawa
, and singer
Sho Hirano
were cast as the series' lead
Oto Edogawa
,
Haruto Kaguragi
, and
Tenma Hase
.
[1]
Hana Yori Dango
Katsuaki Setoguchi and
Yasuharu Ishii
will return as producer and director with
Heroine Shikkaku
writer Erika Yoshida.
[3]
Hana Nochi Hare
is a sequel to
Hana Yori Dango Final
(2008), which in turn is a sequel to
TBS's
Hana Yori Dango
(2005) and
Hana Yori Dango Returns
(2007).
[2]
Auditions for various roles were held on January 28, 2018,[34] while wardrobe fittings began on February 9.[35] The Correct 5's jackets were made by the French company, Dormeuil.[36] On February 17, Tatsuomi Hamada, Marie Iitoyo, Mio Imada, Jin Suzuki, and Keisuke Nakata were added to the cast.[37] Shooting begin in late February. Some of the locations were also used for Hana Yori Dango.[38]
Promotion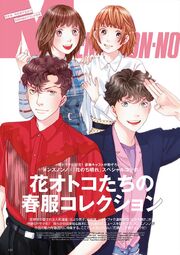 An official Twitter account and web page for
Hana Nochi Hare
was created on January 23, 2018.
[39]
[40]
On February 16, an Instagram account was launched under the username, "oto_edogawa". It is also referred to as "Oto Gram"
(音グラム)
and Sugisaki is in charge of taking many of the photos.
[41]
Later in February, the drama's "crank-in", the start of filming, was covered by news outlets, such as
Yahoo! Japan
[42]
and
Model Press
.
[43]
Sugisaki, Nakagawa, and Iitoyo walked the runway at the Tokyo Girls Collection (TGC) show on March 31.[44] On April 7, 2018, a special preview of Hana Nochi Hare. 10,000 people applied to attend, but only 200 were selected. The stars of the drama walked the red carpet, before the preview.[45]
Interviews
On March 10, Sugisaki, Hirano, and Nakagawa were interviewed on King's Brunch as a part of the segment, "New Spring Drama Report".[46][47] Hirano's band King & Prince performed the series' theme song, "Cinderella Girl" on "CDTV Special! Graduation Song Music Festival" in late March.[48] Nakagawa and Sugisaki were also interviewed on the program.[49] On March 31, Sugisaki, Hirano, Nakagawa, Hamada, Iitoyo, Haruka Kinami, Saki Takaoka, and Momoko Kikuchi appeared on TBS's All-Star Thanksgiving.[50]
Hirano and Nakagawa were interviewed in the April issue of TVfan Cross.[51] Sugisaki and Hirano graced the cover of Weekly The Television (週間ザテレビジョン, Weekly The Television) on April 4.[52] Jun Matsumoto and Mao Inoue previously appeared on the cover together to promote Hana Yori Dango.[53] Sugisaki, Hirano, and Nakagawa interviewed for Margaret's 2000th issue, which also featured a special chapter of Boys Over Flowers.[54] Nakagawa, Hirano, Hamada, Suzuki, and Nakata modeled for the May 2018 issue of Men's Non-no. Suzuki and Nakata, exclusive models for the magazine, were interviewed. Kamio also provided new illustrations.[55]
Music
King & Prince's debut single "Cinderella Girl" serves as the show's theme song. It will be released on May 23, 2018.[56] Hikaru Utada performs the drama's insert song, "First Love". Utada previously performed "Flavor of Life" for Hana Yori Dango Returns.[57][58]
Videos
References
See also
v - e - d
Hana Nochi Hare
Hana Nochi Hare: Hanadan Next Season
External links