Hana Yori Dango: Koi Seyo Otome! (花より男子 恋せよ女子(おとめ)!), (花より男子 恋せよ女子(おとめ)!) is a dating simulation game based on the manga, Boys Over Flowers by Yoko Kamio. The game was published by Konami on July 10, 2008,[2] after the premiere of Hana Yori Dango Final.
The user plays as a new student at Eitoku Academy, who befriends Tsukushi Makino. Eventually, the player can date the F4 members, Tsukasa Domyoji, Rui Hanazawa, Sojiro Nishikado, and Akira Mimasaka.
Game play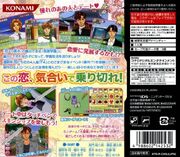 The player character enrolls at
Eitoku Academy
. She comes from a lower class background, similar to
Tsukushi Makino
, who she befriends.
[4]
The game functions similar to real-life. For example, the player wakes up and goes to school in the morning, goes on lunch dates, and night dates. The player then wakes up and starts the whole day over again.
[5]
Tsukasa Domyoji, Rui Hanazawa, Sojiro Nishikado, and Akira Mimasaka are all available for the user to date. How much they like the player depends on the affection level. To increase affection levels, the player should go on dates with him, obtain their email address, and other small things.[5]
Cast and characters
Trailer
Screenshots
References
See also
External links
Ad blocker interference detected!
Wikia is a free-to-use site that makes money from advertising. We have a modified experience for viewers using ad blockers

Wikia is not accessible if you've made further modifications. Remove the custom ad blocker rule(s) and the page will load as expected.