This article is about the Japanese drama. For other uses, see Hana Yori Dango.
Hana Yori Dango (花より男子, Hana Yori Dango) is a live-action Japanese drama based on the manga of the same name by Yoko Kamio. The drama was produced by TBS, and directed by Yasuharu Ishii, Daisuke Yamamuro, and Osamu Katayama.[1] Mao Inoue, Jun Matsumoto, Shun Oguri, Shota Matsuda, and Tsuyoshi Abe starred in the drama as Tsukushi Makino and the F4.[2]
Hana Yori Dango aired from October 21 to December 16, 2005 for nine episodes.[3] The drama was followed by a television sequel, Hana Yori Dango Returns in 2007[4] and a film, Hana Yori Dango Final in 2008.[5] It was released on DVD on March 10, 2006 by TC Entertainment.[6] A special edition of the drama was broadcasted in March 2016.[7][8]
Tsukushi Makino (Inoue), a commoner, attends the prestigious Eitoku Academy, where the F4's word is law. Life takes a turn for Tsukushi when the F4's leader, Tsukasa Domyoji (Matsumoto) takes a liking to her, while she begins to fall for his best friend Rui Hanazawa (Oguri), who is in love with Shizuka Todo (Mayumi Sada). Tsukushi and Tsukasa grow closer, after Rui follows Shizuka to France.
Summary
Tsukushi Makino (Mao Inoue), the daughter of a lower-middle class family, is a second-year at Eitoku Academy, a school for the heirs of the Japan's upper class. The F4 are on an even higher level, and practically have the run of the school. The members consist of the leader and heir to Domyoji Group, Tsukasa Domyoji (Jun Matsumoto); the mysterious man of a few words, Rui Hanazawa (Shun Oguri); a playboy and heir of a Japanese tea ceremony school, Sojiro Nishikado (Shota Matsuda); and Akira Mimasaka (Tsuyoshi Abe), the son of crime bosses, who enjoys the company older women. They often, for whatever reason, hand out red notices and bully other students. One day, Tsukushi stands up for her friend Sakurako Sanjo (Megumi Sato), when she becomes a target. Tsukushi, now the target, refuses to give in and punches Tsukasa, which reminds him of his sister.[9]
Tsukasa begins to take an interest in Tsukushi, while she starts to fall for Rui, who is waiting for his first love to return from France. A welcoming party is held for Shizuka Todo (Mayumi Sada), Rui's long-awaited love. Tsukushi, invited by Yuriko Asai (Saki Seto) and her cronies, Minako Yamano (Emiko Matsuoka) and Erika Ayuhara (Aki Fukada), arrives at the party. The girls bully Tsukushi throughout the night, though Shizuka helps her get back at them and lends her a dress.[10] A few days later, Shizuka announces her departure back to France forever. Tsukushi begs her to stay for Rui's sake, but Shizuka leaves anyway. At the airport, Rui makes the decision to follow Shizuka and Tsukushi says goodbye to her first love. The next day, Tsukasa asks Tsukushi on a date and she contemplates whether to go or not.[11]
Tsukushi, though extremely late, goes to meet Tsukasa, who has been waiting in the rain for several hours. On their way to a nearby café, the two get stuck in a broken elevator and spend the night together. A photo of Tsukasa and Tsukushi from that morning circulates around school, leading everyone to believe they are dating. Tsukushi goes out to a club with her new-found school friends, where she meets a mysterious guy that reminds her of Rui. She wakes up the next day at a hotel with no memory of what happened. Photos of that night also circulate around school.[12] Tsukushi tries to tell Tsukasa she was framed, but he does not believe her. Later, Tsukushi meets up with Sakurako, who kidnaps and takes her to Eitoku. Sakurako reveals that she had planned and calculated everything. She calls Tsukasa and has her men beat him severely, before leaving unsatisfied.[13]
Rui returns from France and Tsukushi starts to question her feelings. Tsukasa's sister, Tsubaki Domyoji (Nanako Matsushima) suggests for her to take Tsukasa on a double date. Tsukushi and Tsukasa meet up with her friend, Yuki Matsuoka (Aki Nishihara) and her boyfriend (Shugo Oshinari). Yuki's boyfriend antagonizes Tsukasa several times, before Tsukasa ends up punching him. Tsukasa refuses to tell Tsukushi what happened. Tsukushi goes to a stairwell at Eitoku, where she meets Rui, who hugs her.[14] Tsukasa misinterprets the hug and kicks Rui out of the F4. Tsukushi goes on a semi-successful date with Rui. Later, she meets up with Yuki, who has not heard from her boyfriend. Yuki runs away, when they spot him with another girl. Sojiro comes to the rescue and helps Yuki get revenge. Tsukushi catches up with them and learns the truth of what happened.[15]
Tsukushi's family and friends are now in dire straits, because of her involvement with Tsukasa. She stands up to the culprit, Tsukasa's mother, Kaede Domyoji (Mariko Kaga). Tsukasa and Tsubaki suggest that Tsukushi enter the Teen of Japan in order to win the five million yen her father owes as well as their mother's respect. Tsukushi agrees and begins training for the contest.[16] She makes it to the final round, but loses to Ayano Kurimaki (Ayana Sakai). Meanwhile, Tsukasa makes plans to go to New York, having lost the wager he had with mother. He had believed that Tsukushi would win and decides to leave without saying goodbye. Tsukushi meets him at the airport and they confess their feelings to each other.[17]
Cast and characters
Starring[2]

Costarring[2]

Special appearance[2]

Guest starring

Class 2-C students[18]

Ai Saikawa as Honoka Kikuchi
Yuka Noguchi as Moe Kobayashi
Yuki Hoshino as Erika Shiraishi
Tamaki Matsuda as Haruka Takasaki
Yukari Yamaguchi as Karen Nomoto
Risa Yamaguchi as Ayano Hayashi
Sayaka Yamada as Arisa Murakami
Kaori Ikeda as Mizuki Morioka
Yuji Ikeda as Ryu Inagawa
Kyohei Oyama as Yusuke Obata
Jun Kobayashi as Koichi Sugihara
Koji Tashiro as Tetsu Chiba
Masei Nakayama as Atsushi Terada
Yuya Mori as Yasuhiro Nakajo
Naoki as Tomohiro Mori
Taro Sekikawa as Kentaro Tanaka
Manabu Omura
Yoshiki Kusanagi
Hiroshi Yoshihara
Hiroki Wakabayashi
Staff
Episodes
DVD release
All nine episodes of Hana Yori Dango were released on a box set on March 10, 2006 by TC Entertainment.[6] It was followed by a blu-ray release on July 2, 2008.[21]
Cover
Release date
Contents
Japanese release
March 10, 2006 (DVD)[6]
July 2, 2008 (blu-ray)[22]

Set details[23]

5-disc set
16:9 aspect ratio
Language: Japanese
Subtitles: None
Running time: 427 minutes
Dolby Digital 2.0


Special features[24]

Making-of footage
Cast interviews
Music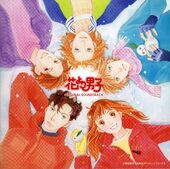 Main article: Hana Yori Dango Original Soundtrack
The soundtrack to Hana Yori Dango was released by Sony Music on December 7, 2005.[25] It consists of background music from the drama, all of which was arranged and composed by Kousuke Yamashita.[18]
Arashi's "Wish" served as the drama's theme song. "Wish" rose to the top of the Oricon charts and sold around 178,000 copies.[26] "Planetarium" by Ai Otsuka was used as an insert song in the drama and became her second #1 hit.[27]
Accolades
Recipient
Category
Result
47th Television Drama Academy Awards
Mao Inoue
Best Actress
Won
Jun Matsumoto
Best Supporting Actor
References
See also
External links
Ad blocker interference detected!
Wikia is a free-to-use site that makes money from advertising. We have a modified experience for viewers using ad blockers

Wikia is not accessible if you've made further modifications. Remove the custom ad blocker rule(s) and the page will load as expected.