Hana Yori Dango (花より男子, Hana Yori Dango) is a 1995 Japanese film based on Yoko Kamio's manga of the same name. It was the first live-action adaptation of the series. The film was directed by Yasuyuki Kusuda and written by Mika Umeda. It starred Yuki Uchida as Tsukushi Makino, Shosuke Tanihara as Tsukasa Domyoji, and Naohito Fujiki as Rui Hanazawa.[2]
The film premiered in theaters on August 19, 1995.[3] It was released on VHS in 1997,[4] followed by a DVD release in 2001.[5] Uchida performed the film's theme song "Baby's Growing Up".[6] TRF's "Overnight Sensation" was also featured at the end of the film.
The F4 and other students of the posh Eitoku University bully Tsukushi (Uchida), after she insults F4's leader, Tsukasa (Tanihara). He begins to fall for her, though she actually likes his friend, the mysterious Rui (Fujiki).
Plot
Tsukushi Makino (Yuki Uchida) starts her first day as a first year at Eitoku Gakuen University. Unimpressed by the school's clique, the F4, she insults their leader, Tsukasa Domyoji (Shosuke Tanihara). He gives her a red notice and bullies her unrelentingly, along with the rest of the student body. Tsukushi finds some solace in yelling insults on the school's roof, where she first sees the mysterious Rui Hanazawa (Naohito Fujiki).
Tsukasa pushes the bullying further by having a group of boys attempt to assault Tsukushi. Rui stops the boys, while also saying uncaring words towards Tsukushi. Tsukushi confronts Tsukasa by kicking him in the chest and placing a red notice on his forehand. In shock, Tsukasa realizes that Tsukushi reminds him of his beloved sister. After the incident, Sakurako Sanjo (Kaori Sakagami) invites Tsukushi to her party, pretending to be Tsukushi's friend. However, Tsukushi dresses casually to the party and Sakurako reveals her true nature. Tsukasa swoops in and protects Tsukushi from the girls, much to her chagrin.
Tsukushi learns about Rui's first love, Shizuka Todo (Marie Eguro) the next day from the other F4 members, Sojiro Nishikado (Kensaku Saeki) and Akira Mimasaka (Koichi Hashizume). She appears visibly upset and even more so upon finding Rui kissing a poster of Shizuka. Shizuka arrives at Eitoku the next day and witnesses the other students bullying Tsukushi and helps clean her up. Sojiro and Akira tease Tsukasa about Tsukushi at dinner, and Shizuka urges him to invite Tsukushi to her party.
Tsukasa kidnaps Tsukushi, bringing her to a salon and clothing store, before informing her of the party. At the party, Shizuka notifies her guests that she is moving to New York, never to return to Japan. Rui is especially shocked by the news and leaves. Tsukushi worries about Rui and becomes intoxicated from drinking to much. She and Tsukasa proceed to have a loud fight, and she attempts to slap him, instead her lips fall into his. The picture of the "kiss" spreads throughout the school, leading everyone to believe they are in a relationship. Tsukasa refuses to deny the rumor and invites Tsukushi out on a date. It does not go exactly well, although the two reach an understanding and Tsukushi agrees to be his girlfriend for a time.
Tsukushi begs Shizuka to stay for Rui's sake, but Shizuka explains her reasons and leaves for America. Rui does not show up to say goodbye and Tsukushi looks for him the next day to comfort him. Tsukasa catches them talking and Sakurako confirms his suspicions. Tsukasa later spots Tsukushi and Rui dancing close together at a club. He becomes upset and starts to bully the other students again. Tsukushi stops him, and he wrestles her to the ground and kisses her.
At the beach, Tsukushi and Tsukasa's relationship seems to be back to normal. Although, Tsukushi cannot stop thinking of Rui, who is surrounded by a lot of girls lately. That night Tsukushi goes for a walk along the beach, where she meets Rui. She confesses how she feels about him and the two kiss. Tsukasa sees their embrace, punches Rui, and breaks up with Tsukushi. The repercussions are obvious at school as Tsukasa calls Rui a "traitor". Despite this, Rui asks Tsukushi out on a date to an aquarium. The date is somewhat awkward, and Tsukushi begins to understand her true feelings.
After a short conversation with Tsukasa, Tsukushi realizes that Rui should be with Shizuka and urges him to go be with her. At the party, Rui shows his airline ticket to Tsukushi and leaves. Tsukushi walks into the party, wearing jeans and the simple white blouse from Sakurako's party. She and Tsukasa embrace, finally confirming their feelings. The film ends with everyone dancing to TRF's performance of "Overnight Sensation".
Cast and characters
Guest roles: TRF (cameo), Maiko Minami (teacher), Michiko Shimizu (boutique manager)[2]
Staff
Director: Yasuyuki Kusuda
Original work: Boys Over Flowers by Yoko Kamio
Screenplay: Mika Umeda
Producers: Akifumi Takuma, Jiro Komaki, Yumiko Shigeoka, Tadashi Shibasaki
Executive producers: Chiaki Matsushita, Yuzo Abe
Production: Koichi Murakami, Suo Ikuo
Planning: Hajime Shigemura, Toshikazu Horiguchi
Shooting: Kenji Hoshiya
Assistant director: Shinichi Iijima
Photography: Kenji Hoshiya
Art: Shozo Uemura
Music: Satoru Nakajima
Production
Production was handled by the Margaret editorial staff and the film company. The series' creator Yoko Kamio had little to no involvement. During production, Kamio visited the set with her editor at a club called Belle Faire in Roppongi. They were filming the dance scene of the film and Kamio had the opportunity to the actors.[7] The film featured Yuki Uchida, Shosuke Tanihara, and Naohito Fujiki in their film debuts.
Hana Yori Dango premiered on August 19, 1995 in theaters.[1]
Home video release
The film was released on VHS on February 21, 1997[4], and on DVD on September 19, 2001 by King Records.[5]
Hana Yori Dango was featured on a box set, titled "Our film series" (ぼくたちの映画シリーズ, "Our film series"), with five other manga adaptations. The other films in the set were Tokimeki Tonight, Deborah ga Rival, Tomoko no Baai, That's Cunning! Shijo Saidai no Sakusen?, and Shiratori Reiko de Gozaimasu!. It was released on September 19, 2001 by Pony Canyon.[8]
Music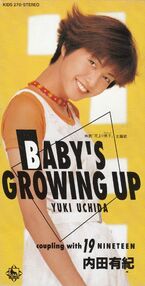 Yuki Uchida's "
Baby's Growing Up
" served as the theme song for
Hana Yori Dango
.
[6]
The vocal version of the song is heard during the opening credits, and an instrumental and slowed down version are played throughout the rest of the film. The song was released on August 19, 1995 and reached #5 on the Oricon charts in Japan.
[9]
The band
TRF
performed their single "
Overnight Sensation
" during the closing credits of the film.
The opening of "Bad to the Bone" is played frequently whenever Sakurako and her friends confront Tsukushi. A famous minuet from Luigi Boccherini's String Quintet in E major was also performed at Shizuka's party.
Accolades
Notes
References
External links