Hana Yori Dango Final (花より男子F ファイナル, Hana Yori Dango Final) is the film sequel to the 2007 drama, Hana Yori Dango Returns and the 2005 drama, Hana Yori Dango.[1] The film is originally based on the manga Boys Over Flowers by Yoko Kamio.[2] It premiered on June 28, 2008[3] and topped the Japanese box office for three straight weekends.[4] The film was released on DVD on December 19, 2008 in Japan[5] and August 25, 2009 in North America.[6]
Mao Inoue, Jun Matsumoto, Shun Oguri, Shota Matsuda, and Tsuyoshi Abe, once again returned to play their roles from the previous series. The series director Yasuharu Ishii also directed the film. Mikio Satake and Yoko Kamio worked together on the script.[7][8]
Tsukushi Makino (Inoue) and Tsukasa Domyoji (Matsumoto) are preparing for their long anticipated wedding, when a precious Domyoji family heirloom is stolen. Determined to find the tiara, they travel to Las Vegas and Hong Kong to track down the thief. Several trials and tribulations test their readiness to head down the aisle.
Plot
The film opens up with Tsukushi Makino (Mao Inoue) and Tsukasa Domyoji (Jun Matsumoto) driving across the Nevada desert. They are about to hit a semi-trailer truck, before the story switches to two weeks previously in Tokyo. Tsukushi and her family meets with Tsukasa and his mother, Kaede Domyoji (Mariko Kaga) to discuss the marriage. Tama enters the room and presents a Domyoji family heirloom, the Venus tiara to Tsukushi. Later that day at the hotel, Tsukushi's family goes off to eat dinner, leaving her alone with Tsukusa. A masked thief (Akira) crashes through the window and steals the tiara. Tsukasa chases him throughout the hotel, leading to a fight in the kitchen and a final standoff on the roof, where he disappears onto a helicopter.
Tsukushi and Tsukasa return to the room, only to find the window replaced and all evidence erased. Meanwhile, Rui Hanazawa (Shun Oguri) receives a call from Shizuka Todo (Mayumi Sada).
Cast and characters
Starring

Costarring

New characters[1]

Minor roles

Naoto Takenaka (hotel employee)
George Takahashi (customer)
Hiromasa Taguchi (reporter)
Reiko Hiroshige

Former Eitoku students

Yuki Hoshino
Risa Yamaguchi
Sayaka Yamada
Yuka Noguchi
Michi Saito
Erina
Yuji Ikeda
Yuya Mori
Manabu Omura
Kenji Yamamoto
Yuichi Sakamoto
Kyohei
Staff
Production
The film sequel of Hana Yori Dango and Hana Yori Dango Returns, Hana Yori Dango Final was announced by TBS in August 2007. Filming took place for two months overseas, starting in January. Director, Yasuharu Ishii and screenwriter, Mikio Satake both returned from the original series. Satake collaborated with Boys Over Flowers creator Yoko Kamio on the script.[7]
Mao Inoue and Jun Matsumoto filmed in Hong Kong from February 11 to 16, 2008, before flying to Las Vegas, Nevada on February 19. Hana Yori Dango Final finished all of its overseas shooting in Las Vegas on February 29, 2008.[3]
DVD release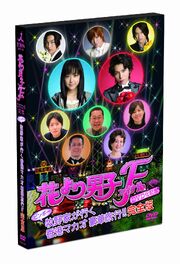 The film was released on DVD on December 19, 2008 by TC Entertainment.[9] It is the third best-selling domestic live-action film DVD in Japan ever,[10] having sold over 346,721 copies in the first half of 2009.[5] The DVD ranked fourth in the Oricon's general category at the end of the year, selling 358,172 copies.[11]
An expanded version of a television special titled Hana Yori Dango Final DVD-ka Kinen Binbō Makino-ke ga Iku Hong Kong Macao Gōka Ryokō!! Kanzen-ban (花より男子F DVD化記念 ビンボー牧野家が行く 香港マカオ豪華旅行!! 完全版), (花より男子F DVD化記念 ビンボー牧野家が行く 香港マカオ豪華旅行!! 完全版) was released on DVD on November 26, 2008. The special shows the cast of the film exploring restaurants in Hong Kong, Macao, and other places.[12][13]
Discotek Media released the film on DVD in North America as Hana Yori Dango Final: The Movie on August 25, 2009 in North America. The film also ran in some American film festivals and some trans-Pacific airline flights.[6]
Cover
Release date
Contents
Japanese release
Premium Edition

Standard Edition
December 19, 2008[9]

3-disc set (Premium), 1-disc set (Standard)
16:9 aspect ratio
Language: Japanese
Subtitles: Japanese
Running time: 131 minutes
Dolby Digital 2.0

Special features (Premium)

Director's Cut
Preview Event in Budokan
Gala Premiere
Promotion in Five Major Cities
Promotion in Okinawa
Final Event at Yebisu Garden Place

American release
August 25, 2009[16]

DVD details

2-disc set
1.85:1 aspect ratio
Language: Japanese
Subtitles: English
Running time: 131 minutes
Dolby Digital 5.1

Special features

Trailers
Production Announcement
Making Of
Crank-Up Collection
Directors Cut
Memorial Event Collection
Interviews
Gala Premiere
Soundtrack
Main article: Hana Yori Dango Final Original Soundtrack
The soundtrack to Hana Yori Dango Final was published on June 25, 2008 by Sony Music. Arashi's "One Love" served as the film's theme song, though it was not included on the soundtrack.[17] The single was listed on Japan Gold Disc Award as one of the best-selling singles of 2009.[18] "KissHug" by Aiko was an insert song for the film.[19]
Reception
Box office
Hana Yori Dango Final topped the Japanese box office in its first weekend, earning over one billion yen (US$9,631,782).[2] The film opened on 400 screens and was watched by over one million people in its first five days.[20] It stayed at number one for three consecutive weekends[21] and the top ten for ten weekends.[22] The film was the second highest-grossing film of 2008 in Japan, behind Ponyo on the Cliff by the Sea. It earned approximately 7.75 billion yen (US$83.5 million).[23]
Accolades
Notes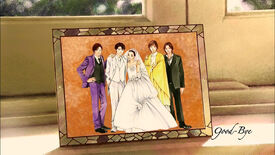 References
External links
See also
Ad blocker interference detected!
Wikia is a free-to-use site that makes money from advertising. We have a modified experience for viewers using ad blockers

Wikia is not accessible if you've made further modifications. Remove the custom ad blocker rule(s) and the page will load as expected.