Hana Yori Dango Returns (花より男子 リターンズ, Hana Yori Dango Returns), also known as Hana Yori Dango 2 (花より男子2, Hana Yori Dango 2), is the sequel to the 2005 Japanese drama based on the manga Boys Over Flowers by Yoko Kamio.[1] The drama aired from January 5 to March 16, 2007 for eleven episodes.[2][3] Mao Inoue, Jun Matsumoto, Shun Oguri, Shota Matsuda, and Tsuyoshi Abe reprised their roles as Tsukush Makino and the F4.[4]
Yasuharu Ishii, Takayuki Takuma, and Katsuaki Setoguchi returned from the first series. The drama was produced for TBS.[5] It was released on DVD on March 16, 2007.[6] The drama was followed by Hana Yori Dango Final (2008)[7] and Hana Nochi Hare (2018).[8] A special edition of Returns aired in April 2016.[9][10]
Tsukushi Makino (Inoue) travels to New York to reunite with Tsukasa Domyoji (Matsumoto), who rejects her. She returns to Japan, where Tsukasa's mother announces his engagement to Shigeru Okawahara (Natsuki Kato). Shigeru falls in love with Tsukasa, while becoming friends with Tsukushi.
Summary
One year after Tsukushi Makino (Mao Inoue) and Tsukasa Domyoji (Jun Matsumoto) confessed their feelings to each other, the F4 have graduated, Sakurako Sanjo (Megumi Sato) has moved to Australia, and Tsukasa is ignoring Tsukushi's calls. Tsukushi flies to New York to see him, quickly followed by Rui Hanazawa (Shun Oguri), Sojiro Nishikado (Shota Matsuda), and Akira Mimasaka (Tsuyoshi Abe), who lend their support. Tsukasa gives no explanation for his strange behavior and coldly rejects Tsukushi. She returns home defeated, however not long after she receives an invitation to Tsukasa's birthday. At the party, Tsukasa's mother Kaede Domyoji (Mariko Kaga) announces his engagement to Shigeru Okawahara (Natsuki Kato).[11]
Shigeru promptly falls in love with Tsukasa and befriends Tsukushi. Confused by her feelings, Tsukushi says no words of protest, encouraging Shigeru instead. Against the marriage at first,[12] Tsukasa concedes and asks Shigeru to become his girlfriend. Meanwhile, Tsukushi works hard at two jobs and studying to get into Eitoku Law School, so much that she passes out from exhaustion. At dinner with Shigeru's parents, Nishida (David Ito), Kaede's secretary, informs Tsukasa that Tsukushi has been hospitalized. Tsukasa immediately leaves and starts running toward the hospital.[13]
Tsukasa leaves as soon as he sees Rui, who stays with her all night. In the morning, he kisses her much to her surprise. Tsukushi goes home to find that her parents have moved to a small village to work as fishermen, leaving Tsukushi and Susumu (Satoshi Tomiura) to find a new place to live. Tsukasa moves in right next door to their new apartment.[14] Later, Rui and Tsukushi eat lunch and he confesses that he likes her. In the meantime, Tsukasa grows closer to Susumu as he helps him with first love, though it does not work out.[15]
Tsukushi answers a knock on the door and finds Nishida on the other side. Nishida recounts the events between Ken Uchida (Shingo Tsurumi) and Tsukasa that happened the previous year. The floor of Tsukushi's apartment caves in, so Susumu goes to live with their parents and Tsukushi stays at Tsukasa's mansion. On Valentines Day, Tsukushi gives Tsukasa the Saturn necklace, which had given her a year ago. He throws it into the nearby river and leaves, while Tsukushi dives into the water to retrieve it. Meanwhile, Sojiro visits Yuki Matsuoka's (Aki Nishihara) tea ceremony club, but suddenly leaves, after seeing Sara Hinata (Shihori Kanjiya).[16] A week later, Sojiro finds Sara, his first love, who is now engaged. Back in Tokyo, Yuki has been searching for all this time, shows Sojiro proof that Sara had loved him.[17]
Tsukushi tells Rui that she does not feel the same, though he refuses to give up. However, Rui admits defeat, after sincere pleading from Tsukasa. Next Tsukasa resolves to end his engagement at a dinner with Shigeru and her parents. Before Tsukasa has a chance, Shigeru ends it instead. Tsukushi says goodbye to Shigeru, before the latter flies back to New York.[18] Domyoji Group begins to feel the impact of the failed merger with Okawahara Corp. Tsukushi worries that everything is her fault, because of her relationship with Tsukasa. She visits Kaede, who advises her to leave the Domyoji family alone. The same day, Tsukushi says goodbye to Tsukasa in the rain and moves in with her parents.[19]
Walking through Tokyo, Tsukasa spots Ken Uchida, who he thought was dead. He tracks him down and Ken tells him everything that had transpired the previous year. Ken's story gives Tsukasa the resolve to go and take Tsukushi back. He travels to the fishing village, where Tsukasa slips and falls protecting Susumu. At the hospital, the doctor reveals Tsukasa is suffering from amnesia. Unfortunately, Tsukushi is the only person he has forgotten. Meanwhile, Umi Nakajima (Erika Toda), another patient, gets closer to Tsukasa.[20] To celebrate Tsukasa's release from the hospital, the F4 go on a trip to the mountains and invite Tsukushi. Tsukasa figures out that Umi is not the one, and out of anger she tells Tsukushi that Yuki went out in a snowstorm. Upon hearing the news, Tsukasa rescues and helps Tsukushi to a warm cabin. There he finally realizes that he loves Tsukushi. Sometime later, Tsukushi is making her way to her prom, where Tsukasa proposes to her in front of a large crowd. She says yes and believes now that they will be together forever.[21]
Cast and characters
Starring[4]

Costarring[4]

Cameo appearance[4]

Special appearance[4]

Guest starring

Class 3-C students[22]

Ai Saikawa as Honoka Kikuchi
Aya Omasa as Yuzuki Morishita
Erina as Manami Yagami
Jo Komuro as Shinichi Nagaike
Koji Tashiro as Satoshi Chiba
Kyohei as Yusuke Omata
Manabu Omura
Michi Saito as Erina Nozoe
Risa Yamaguchi as Ayano Hayashi
Sayaka Yamada as Arisa Murakami
Tamaki Matsuda as Haruka Takasaki
Taro Sekikawa as Kentaro Tanaka
Yoshiki Kusanagi
Yuichi Sato as Atsuhiro Teraoka
Yuka Noguchi as Moe Kobayashi
Yuji Ikeda as Ryu Inagawa
Yuki Hoshino as Erika Shiraishi
Staff
Episodes
#
Title[23]
Airdate[24]
1
"One year later... At last, it returns!! This time the stage is New York!! New developments in love and friendship full of ups and downs...But wasn't it
supposed to be a happy ending!?"
"Are kara 1 nen... kon'ya tsuini fukkatsu!! Kondo no butai wa Nyū Yōku!!
Dai haran no koi to yūjō no shin tenkai tsu-ka happīendo ja nakatta no!?"


(あれから1年…今夜遂に復活!! 今度の舞台はニューヨーク!! 大波乱の恋と友情の新展開 つーかハッピーエンドじゃなかったの!?)

January 5, 2007[2]
2
"The strongest rival"
"Saikyō no Raibaru"

(最強のライバル)

January 12, 2007
3
"Bye bye, stupid guy"
"Bai bai baka otoko"

(ばいばいバカ男)

January 19, 2007
4
"Perilous battle"
"Inochigake no shuraba"

(命がけの修羅場)

January 26, 2007[25]
5
"We like you"
"Omae ga suki da"

(おまえが好きだ)

February 2, 2007
6
"Confession turns chaotic!!"
"Kokuhaku wa dai haran!!"

(告白は大波乱!!)

February 9, 2007
7
"Once-in-a-lifetime first love"
"Ichi-go ichi-e no hatsukoi"

(一期一会の初恋)

February 16, 2007
8
"The love square is settled"
"Shikaku kankei no ketchaku"

(四角関係の決着)

February 23, 2007
9
"Painful goodbye in the rain"
"Setsunai ame no wakare"

(切ない雨の別れ)

March 2, 2007
10
"Lost memories"
"Kieta omoide"

(消えた思い出)

March 9, 2007
11
"The world's best proposal ever"
"Shijō saikō no Puropōzu"

(史上最高のプロポーズ)

March 16, 2007
DVD release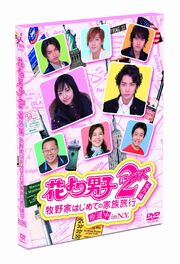 The series was released in a box set on July 11, 2007 by TC Entertainment.[26] It was re-released in blu-ray format on August 6, 2008.[27] Both include a variety of bonus features, such as a director's cut for the first and last episodes.
A special titled, "Hana Yori Dango Returns Special: Makino family's first vacation in N.Y." (花より男子2リターンズ 番外編牧野家はじめての家族旅行珍道中 in N.Y.), (花より男子2リターンズ 番外編牧野家はじめての家族旅行珍道中 in N.Y.) aired on January 3, 2007 in Japan. The special was edited and released on DVD by TC Entertainment on June 6, 2007.[28]
Cover
Release date
Contents
Japanese release
July 11, 2007 (DVD)[26]
August 6, 2008 (blu-ray)[27]

Set details[29]

7-disc set
16:9 aspect ratio
Language: Japanese
Subtitles: None
Running time: 567 minutes
Dolby Digital 2.0


Special features

Director's cut of first and last episodes
Interviews
Crank-Up Collection
Rock Lounge @ Budokan
Making-of
Music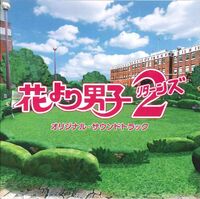 Main article: Hana Yori Dango Returns Original Soundtrack
Kousuke Yamashita, who had also worked on the Hana Yori Dango soundtrack, composed the background music for Returns. The soundtrack was released by Seikodo on February 28, 2007. It consisted entirely of Yamashita's compositions.[30]
"Love So Sweet" by Arashi served as the theme song for the drama. The song is certified Double Platinum by Recording Industry Association of Japan.[31] Utada Hikaru's "Flavor of Life" was the insert song for the drama and was downloaded over three million times.[32][33]
Accolades
Recipient
Category
Result
52nd Television Drama Academy Awards
Hana Yori Dango Returns
Best Drama
Won
2007 Annual Drama Grand Prix Awards
Shun Oguri
Best Supporting Actor
Won
16th Hashida Awards
Mao Inoue
Newcomer Award
Won
Shun Oguri
Newcomer Award
10th Nikkan Sports Drama Grand Prix
Hana Yori Dango Returns
Best Drama
Won
Mao Inoue
Best Actress
Jun Matsumoto
Best Supporting Actor
References
See also
External links