"I don't understand. Why is this effecting me so much? After all, I'm not in love with him. I'm not in love!"
"I Won't be Hurt!" (傷ついたりしない!, Kizutsui tari shinai!) is the third episode of the Boys Over Flowers anime. The episode aired on September 22, 1996 in Japan. Yumi Kageyama (known for Marmalade Boy) wrote the screenplay for this episode.
Tsukushi Makino is tricked by three rich girls into dressing casual at a ritzy party. Rui Hanazawa's first love returns from Paris, France, which troubles Tsukushi.
Plot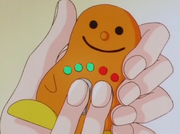 Tsukushi arrives to the party in casual dress and realizes that Yuriko Asai, Minako Yamano, and Erika Ayuhara have tricked her. The girls reveal that they are jealous of Tsukushi being around the F4. Tsukushi announces the girls true intentions to the whole party that they are only interested in landing a rich man. She leaves after pouring red wine on Yuriko.
The girls claim that Rui Hanazawa is in love with someone else, which seems to bother Tsukushi that night and the next day. At school, she goes to the stairwell and surprisingly finds Rui. Yuriko, Minako, and Erika see Tsukushi and Rui talking, and jealously confront her about it. They reveal Rui's first love, Shizuka Todo. Tsukasa Domyoji 'saves' Tsukushi from the girls, and holds out his hand. Tsukushi rejects it claiming this was all his fault in the first place.
Tsukushi has lunch with
Sojiro Nishikado
and
Akira Mimasaka
, who reveal more about Rui's first love. Shizuka was the only one to make Rui smile and managed to draw him out of his introverted nature. She is shocked by the sudden revelation, which worsens when she spots Rui kissing a Shizuka poster. Rui guesses that Tsukushi is in love with him and kisses her on the cheek to her surprise.
Yuriko, Minako, and Erika passive-aggressively mention how much better Shizuka is to Tsukushi. She leaves the classroom and walks right pass Tsukasa. He has straightened his hair, because of the comment Tsukushi's comment. To his horror and Tsukushi's laughter, his hair begins to curl again. Sojiro and Akira announce Shizuka's arrival and Tsukushi sees the two kissing.
Cast and characters
Staff
Screenplay: Yumi Kageyama
Director: Yasuo Yamayoshi
Animation director: Mitsuru Aoyama
Art director: Tomoko Ide
Notes
Tsukushi uses the toy Yuki gave her in "Declaration of War!" to "test" Asai and friends intentions. The toy was also released by Bandai to tie-in with the anime.
The series' first original character, Aoi Urara was introduced in this episode.
External links
See also
Ad blocker interference detected!
Wikia is a free-to-use site that makes money from advertising. We have a modified experience for viewers using ad blockers

Wikia is not accessible if you've made further modifications. Remove the custom ad blocker rule(s) and the page will load as expected.