Junpei Oribe
Junpei Oribe

Character information
Name in Japanese
織部 順平
Name in Chinese
Name in Hangul
Romanization
Oribe Junpei
Nicknames
Gender
Male
Age
Born
Died
Hair color
Brown
Eye color
Brown
Occupations
Model
Residence
Family
Shingo Oribe (half-brother)
Unnamed (father)
Unnamed (step-mother)
Relationships
Education
Eitoku Academy
Affiliations
[Source]
Junpei Oribe (織部 順平, Oribe Junpei) is a former student of Eitoku Senior High.[1] He works as a model under the name Jun ( ジュン, Jun).[2]
Biography
Early life
High school
Physical appearance
Personality and traits
Behind the scenes
See also: Category:Junpei Oribe portrayals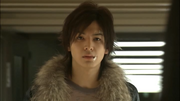 Toma Ikuta portrayed Junpei in the first episode of Hana Yori Dango Returns (2007).[3] In this version, Shingo is cousin not his half-brother. Similar to the manga, he is a model and appears on the cover of Treasures with Tsukushi. He also kidnaps her in an attempt to force Tsukasa to come back to Japan. Tsubaki Domyoji rescues Tsukushi, and the other F4 members punish Junpei off-screen.[4]
Junpei is included on the Hana Yori Dango Returns character chart, despite only appearing in one episode. Ikuta at the time was signed with Johnny & Associates and his photo could not be used on the chart.
Sakurako Sanjo kidnapping Tsukushi in the fifth episode of Hana Yori Dango is similar to Junpei's actions in the manga. The situation was also referenced by Junpei in Hana Yori Dango Returns, when he says "this has happened to you before, hasn't it?".
Ryo Kimura played Junpei in Hana Yori Dango: The Musical (2016). Kimura previously appeared in Hanazakari no Kimitachi e (2007) with Ikuta and Shun Oguri.
Appearances
References
Ad blocker interference detected!
Wikia is a free-to-use site that makes money from advertising. We have a modified experience for viewers using ad blockers

Wikia is not accessible if you've made further modifications. Remove the custom ad blocker rule(s) and the page will load as expected.