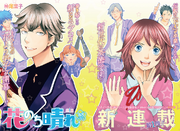 Boys Over Flowers Season 2
is a shojo manga series by
Yoko Kamio
. It is a sequel to Kamio's popular series,
Boys Over Flowers
. The
first chapter
of the manga premiered simultaneously in Japan and America on February 15, 2015. The manga is published online on
Shueisha's
Shonen Jump+
in Japan, and 
Viz Media's
website and app, Comixology, and Amazon Kindle in America.
[1]
It is released biweekly on Sundays,
[2]
 unless announced otherwise.
The first volume of Boys Over Flowers Season 2 was published on July 3, 2015 in Japan[3] and on December 22 in America by Viz Media digitally.[4] Volume one sold an estimated 67,620 copies by July 12 in Japan.[5] As of September 25, 2018, ten volumes of Season 2 have been published in Japan and nine digitally in America.[6][7]
Chapters
Vol.
Original cover
Viz cover
Release dates
ISBN
Chapters
1
July 3, 2015[3]
December 22, 2015[8]
4088804023
2
November 4, 2015[9]
March 29, 2016[10]
4088805461
3
March 4, 2016[11]
June 28, 2016[12]
4088806409
4
July 4, 2016[13]
October 25, 2016[14]
4088807359
5
December 2, 2016[15]
May 23, 2017[16]
4088808398
6
April 4, 2017[17]
October 24, 2017[18]
4088810627
7
August 4, 2017[19]
January 23, 2018[20]
4088811461
8
January 4, 2018[21]
May 22, 2018[7]
4088813324
9
April 4, 2018[22]
September 25, 2018[23]
4088814223
10
August 3, 2018[6]
January 22, 2019[24]
4088815440
11
December 4, 2018[25]
408881651X
Uncollected chapters
Editions
Main article: Foreign editions of Boys Over Flowers
References