Upcoming Content!
At least part of the content on this page is derived from media that has not yet been released. Information may be inaccurate and is subject to change.
Meteor Garden (Chinese: 流星花园; pinyin: Liúxīng Huāyuán) is an upcoming remake of the 2001 series of the same name. It is an adaptation of Yoko Kamio's Boys Over Flowers.[2][3] It will air sometime during the summer of 2018. The series is produced by Angie Chai[4] and directed by Lin He Long.[5]
The series will star Shen Yue as Shan Cai with Dylan Wang, Darren Chen, Connor Leong, and Caesar Wu as the F4.[6] Sun Yi Han, Li Jia Qi, Liu Yin Hao, Sun Qian, and An Zi Yi have been cast in supporting roles.[7]
Premise
Eighteen-year-old Dong Shan Cai (Shen Yue) is an average girl, who transfers to Ying De University. The school is controlled by the F4, a group of four boys from rich and powerful families. The members are the hot-headed leader Dao Ming Si (Dylan Wang), the quiet Hua Ze Lei (Darren Chen), the playboys Feng Mei Zuo (Connor Leong), and Xi Men Yan (Caesar Wu). Shan Cai angers Si, who ends up falling in love with her. A series of misunderstandings ensue.
Cast and characters
Starring[6]
Guest starring
Staff
Production
In April 2017, Angie Chai announced the remake of Meteor Garden, which she produced in 2001. Prior to the announcement, Barbie Hsu hinted at the news on her Weibo account.[4] Chai plans on making the remake a "fuller—and flashier–adaptation of the books".[3] The drama is budgeted at 720 million New Taiwan dollars (about US$24 million) with 15 million per episode, which is thirty times higher than the original.[4]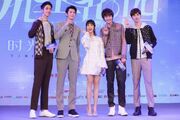 A casting call was announced on social media on June 21, 2017 with a video and the topic, "#FindingF4#".
[13]
On November 7, 2017, the actors playing the
F4
were revealed, namely
Dylan Wang
(
Dao Ming Si
),
Darren Chen
(
Hua Ze Lei
),
Connor Leong
(
Mei Zuo
), and
Caesar Wu
(
Xi Men
). They also appeared in
Harper's Bazaar China
together.
[14]
[15]
Shen Yue's
role as
Dong Shan Cai
was unveiled at a press conference in Shanghai on November 9.
[6]
Director Xu Fu Xiang was replaced with Lin He Long in February 2018, due to creative differences. Lin previously worked with Angie Chai on Devil Beside You and Corner with Love[5] In March 2018, the production completed filming in China and began shooting in London, England.[16][17] Filming officially concluded on March 22 and Chai began the post-production process.[18]
Promotion
In November 2017, the F4 actors appeared on the cover of Men's Uno Young.[19] Yue joined Wang, Chen, Leong, and Wu on the cover of Elle China's online edition of their February 2018 issue. They filmed an short video for SuperElle in collaboration with Chanel.[20] The F4 actors also appeared in InStyle in February 2018.[21] Promotional photos for the main cast were officially revealed in mid-February on Weibo.[22]
Music
Penny Tai will rearrange "Ni Yao De Ai" ("The Love You Want") to serve as the ending song. It previously served as the ending for the original series. Tai will peform two different versions for the remake.[23]
References
See also
External links