Nakatsuka

Character information
Name in Japanese
中塚
Name in Chinese
Name in Hangul
Romanization
Nicknames
Gender
Male
Age
Born
Died
Hair color
Eye color
Occupations
Student
Residence
Family
Relationships
Yuki Matsuoka (ex-girlfriend)
Mika (fling)
Education
Unnamed (high school)
Affiliations
[Source]
Nakatsuka (中塚, Nakatsuka)[1] is the ex-boyfriend of Yuki Matsuoka. He attends the same high school as Yuki, where he also met her.
Biography
High school
Physical appearance
Personality and traits
Behind the scenes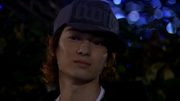 Shugo Oshinari portrayed Nakatsuka in the sixth and seventh episodes of Hana Yori Dango.[2][3] Unlike the manga, Nakatsuka asked Yuki out on the street, instead of meeting her in school.[4] Yuki mentions him to Tsukushi,[5] before the couple go on a double date with Tsukushi and Tsukasa. On the date, Nakatsuka asks Tsukasa to ditch Tsukushi to go pick up girls with him, also saying that Tsukushi is "not that pretty". This comment provokes Tsukasa to punch him, just before girls walk within earshot. Nakatsuka angrily goes away[6] and stops contacting Yuki. Eventually, Yuki sees him with an unknown girl and runs off crying. Later, Sojiro helps Yuki get revenge by humiliating him.[4]
Appearances
References
Ad blocker interference detected!
Wikia is a free-to-use site that makes money from advertising. We have a modified experience for viewers using ad blockers

Wikia is not accessible if you've made further modifications. Remove the custom ad blocker rule(s) and the page will load as expected.