Ririka Kato (加藤 梨里香, Katō Ririka, born March 20, 1998 in Kanagawa, Japan) is a theater actress from Japan. She starred as Tsukushi Makino in the musical adaptation of Boys Over Flowers.
Kato began working as a child actor in 2002, before joining the acting troupe, Gekidan Her Best in 2012.
Biography
Early life
Kato was born on March 20, 1998 in the Kangawa Prefecture of Japan.[1] She began acting at a young age.
Career
In 2012, she signed onto Sony Music Artists and joined their unit, "Gekidan Her Best" (劇団ハーベスト, "Gekidan Her Best"). Kato performed in several productions with the unit, including Ladybird, Ladybird (2013), Ghetto (2013), and Miracle8 (2015).
In 2015, Kato was chosen to play Tsukushi Makino in Hana Yori Dango: The Musical out of 3,000 participants. Her cheerful attitude during the audition won her an unanimous decision from the producers.[2]
Performances
Stage
Year
Title
Role
Notes
2002
Chance
Mai (child)
2004
Gang
Poppy
Present 
Emily
2007
Anne of Green Gables
Ensemble
2008
Coco Smile 4
Peco
2009
Happano Freddie: Inochi no Tabi
Mary
2010
Princess Valentine
Louisa
Happano Freddie: Inochi no Tabi
Claire
2011
The Wizard of Oz
Dorothy
2012
Princess Valentine 2: Rock Princess
Princess Margaret
2013
Ladybird, Ladybird
Anne
Ghetto
Gerda
Rokudenashi Chorus
2014
Ladybird, Ladybird
Anne
Crank Up wa Mada Hayai
2015
Ladybird, Ladybird
Anne
Maria to Midori no Princess
Maria
2016
Hana Yori Dango: The Musical
Tsukushi Makino
Kengo Shogun Yoshiteru
Mahane
2017
Big Fish
Kengo Shogun Yoshiteru
Mahane
Maria to Midori no Princess
Maria
The Panic Monkeys
Guest
2018
Star Tanjo
Yuriko Ogawa
Notes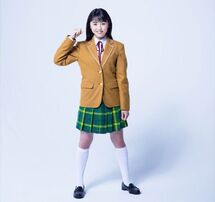 References
External links