Ririka Kato (加藤 梨里香, Katō Ririka, born March 20, 1998 in Kangawa, Japan) is a theater actress from Japan. She starred as Tsukushi Makino in the musical adaptation of Boys Over Flowers.
Kato began working as a child actor in 2002, before joining the acting troupe, Gekidan Her Best in 2012.
Biography
Early life
Kato was born on March 20, 1998 in Kangawa, Japan. She began acting in stage productions in 2002 as a child actor.
Career
In 2012, she signed onto Sony Music Artists and joined their unit, "Gekidan Her Best" (劇団ハーベスト, "Gekidan Her Best"). Kato performed in several productions with the unit, including Ladybird, Ladybird (2013), Ghetto (2013), and Miracle8 (2015).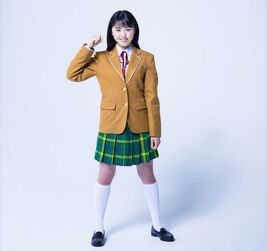 In 2016, Kato was chosen to play
Tsukushi Makino
in
Hana Yori Dango: The Musical
out of 3,000 participants. Her cheerful attitude during the audition won her an unanimous decision from the producers.
[1]
Performances
Stage
CHANCE (2002)
GANg (2004)
PRESENT (2004-2005)
Anne of Green Gables (2007)
Coco Smile 4 (2008)
Leaves of Freddie ~Life Journey~ (2009-2010)
The Wizard of Oz (2011)
Princess Valentine 2 ~Rock Princess~ (January 2012)
Kaien Shimasu!~Girl's Up! UP! (March 2012)
Ippitsu Keijo!~Girls Look Up! (August 2012)
GIRLS COUNTDOWN (December 2012)
Ichi ni Tsuite!~Girls Start Up!~ (March 2013)
LADYBIRD, LADYBIRD (May 2013)
GHETTO (July 2013)
Mikiri Hassha Shisutazu ~Happy Go Lucky~ (August 2013)
Rokudenashi Korasu (November 2013)
BREAK!! ~Sanshasan Yo 3 Shimai~ (December 2013)
Han Juryoku Garu ~Starting Over!!~ (March 2014)
LADYBIRD, LADYBIRD (May 2014)
Ura to Hyo to Kohi Furoto (July 2014)
Kuranku Appu wa Mada Hayai (December 2014)
Kisetsuhazure no Shukaku-sai Fuyu Datte Moreru Mon wa Toreru! Bon Appetit! (December 2014)
Ashita no Kimi to Sharararara (March 2015)
LADYBIRD, LADYBIRD (April-May 2015)
MIRACLE8 (August 2015)
Maria to Midori no Princess (August 2015)
Hana Yori Dango: The Musical (January-February 2016)
Kishikaisei Suu~Ingubai (March 2016)
Makko Garu (August 2016)
Kengo Shogun Yoshiteru (December 2016)
Notes
References
External links