"Shall I Talk About Myself? Part 2" (俺の話をしようか Ore no Hanashi o Shiyō ka[2]) is the second part to a two-part side story by Yoko Kamio. The chapter was published in Margaret No.5 on February 5, 2008. It is the last to be told from Rui Hanazawa's point-of-view and last to focus on the original Boys Over Flowers characters.
Plot
Coming Soon!
Character appearances
Production
[[Yoko Kamio|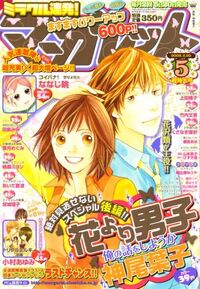 Yoko Kamio]] was commissioned to write a new eighty-page
Boys Over Flowers
story for
Margaret
. The story is the only to be told from
Rui Hanazawa's
point-of-view. He was chosen as the main character after Kamio "realized that Rui wasn't just an absentminded boy". Kamio went scouting in
Tuscany, Italy
for some of the scenes in the chapter. She also booked a tour at the
Leaning Tower of Pisa
for the scene where
Tsukasa
proposes to
Tsukushi
.
[3]
The chapter was published in Margaret No.5 on February 5, 2008[1] and continued the story of the previous that was published in Margaret No.3-4 on January 4, 2008.[4] It was later published in the thirty-seventh volume of Boys Over Flowers.
References
See also
Ad blocker interference detected!
Wikia is a free-to-use site that makes money from advertising. We have a modified experience for viewers using ad blockers

Wikia is not accessible if you've made further modifications. Remove the custom ad blocker rule(s) and the page will load as expected.