Shen Yue (Chinese: 沈月; pinyin: Chén Yuè, born February 27, 1997 in Wugang, China) is a Chinese actress. She is best known for her lead role in the romantic-comedy, A Love So Beautiful.
Shen will portray Dong Shan Cai in the upcoming Meteor Garden remake.
Biography
Early life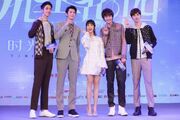 Shen Yue was born on February 27, 1997 in Wugang, located in the Hunan province in China.
In 2014, she enrolled at Hunan Normal University. During her second year in college, her photographer friend posted a photo of her online, which attracted the attention of her future agent.[1]
Career
In August 2017, Shen had small roles in the period drama The Autumn Harvest Uprising (秋收起义) and the romantic-comedy, fantasy Let's Shake It (颤抖吧,阿部!).[2] She was selected for the female lead in the school drama A Love So Beautiful, which began airing on November 9, 2017.[3] The same day, Shen attended a press conference in Shanghai to announce her role as Shan Cai in the upcoming remake of Meteor Garden.[4] She is also currently set to star in Another Me, a television drama based on a film.[5]
Filmography
Television dramas
References
External links