"No? What kanji does her name use?"

The title of this article is conjectural. Although it is based on canonical information, the actual name is conjecture and may be supplanted at any time by additional information released from canonical sources. If this occurs, please move this page to the appropriate title.
Mr. Okawahara
Character information
Name in Japanese
大河原
Name in Chinese
Name in Hangul
Romanization
Ōkawahara
Nicknames
Gender
Male
Age
Born
Died
Hair color
Eye color
Occupations
Residence
Family
Shigeru Okawahara (daughter)
Relationships
Unnamed (wife)
Education
Affiliations
[Source]
Okawahara (大河原, Ōkawahara) is the father of Shigeru Okawahara.[1]
Biography
Physical appearance
Behind the scenes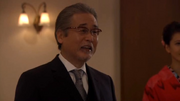 Katsuhiko Sasaki portrayed Mr. Okawahara in three episodes of Hana Yori Dango Returns. In the drama, he is happy to be marrying Shigeru off to someone she likes. He also appears to be ready to retire as soon as Tsukasa graduates college.[2] Mr. Okawahara was surprised by Shigeru suddenly breaking off the engagement.[3] After the engagement was cancelled, he stopped talks of a merger between his company and Domyoji Group.[4]
Appearances
References
Ad blocker interference detected!
Wikia is a free-to-use site that makes money from advertising. We have a modified experience for viewers using ad blockers

Wikia is not accessible if you've made further modifications. Remove the custom ad blocker rule(s) and the page will load as expected.