Manga
"I like to believe... if I wear great shoes, they'll take me to great places."
—Shizuka Todo
Shizuka Todo (藤堂 静, Tōdō Shizuka) was the heiress of Todo Trading. She renounced her family name to become a lawyer and moved to France.[3] Shizuka graduated from Eitoku Senior High[6] and attended Eitoku University, before studying at the Sorbonne in France. She was the first Japanese woman to win "Miss Teen of France".[2]
Biography
Early life
Shizuka was born on October 4,[3] 1973 in Tokyo, Japan as the heir of Todo Trading. She began studying ballet and piano at three years old. During her childhood, she often played with Tsukasa Domyoji, Rui Hanazawa, Sojiro Nishikado, and Akira Mimasaka. She was especially close to Rui.[2]
She took a leave of absence from Eitoku University to study abroad in Paris, France at Sorbonne. While abroad, Shizuka began her modeling career and became the first Japanese woman to win the title, "Miss Teen of France".[2]
Return to Japan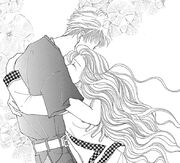 Shizuka: "Rui! I've missed you so much! Rui...let me see your face. You've grown into such a handsome man."
Rui: "All this time...for so long...I've wanted to see you again."
— Shizuka and Rui reunited.
After finishing her studies, Shizuka returned to Japan,[2] where she reunited with her old friends, the F4. She was greeted first by Rui.[4] The following day, Shizuka and the F4 were having lunch at Eitoku University's cafeteria, when Tsukushi Makino and Kazuya Aoike ran in.[7] Rui went on to save Tsukushi from the bullies that had chased her into the cafeteria. Shizuka then helped Tsukushi by taking her to the bathroom to clean up.[8]
Shizuka accompanied the F4 on their trip to Atami during summer vacation. Upon arrival, Shizuka invited Tsukushi to the yacht party. She lent Tsukushi a dress and also fixed her hair and makeup.[9] The next night, Shizuka asked Rui if he liked Tsukushi, despite already knowing his feelings for herself. He declared "Will you stop playing with my feelings?!", before dragging her into one of the yacht's empty cabins.[10] They kissed, but Rui stopped and asked her, "How can you be so... placid?" Shizuka reached out to kiss him again, when Tsukasa walked in and invited them to dinner.[10]
Physical appearance
Tsukushi described Shizuka as having "huge eyes", "flowing chestnut hair", "eyelashes like a doll's", and "translucent skin". She also commented that she had "never seen such a beautiful woman" as Shizuka.[4][8] Shizuka also won the beauty contests, Miss Teen Japan[6] and Miss Teen of France.[2]
Personality and traits
Despite being born into a privileged life, Shizuka was kind and nice to others from different backgrounds, including Tsukushi. In contrast to Tsukushi's interactions with Yuriko Asai, Shizuka always helped by lending her clothes among other things.
Behind the scenes
See also: Category:Shizuka Todo portrayals
Shizuka first appears in a photo in chapter six, though her existence is hinted in chapters four and five.
In the Hana Yori Dango drama CDs (1993-1994), Shizuka is voiced by Saeko Shimazu.
She is portrayed by Japanese-American actress, Marie Eguro in the 1995 film. The actress is fluent in English and speaks the language in every scene she appears. In this version, Shizuka was studying aboard in Boston instead of France, before returning to Japan.
Appearances
Boys Over Flowers
Volume 5
Volume 6
Volume 7
Volume 8
Volume 9
Volume 10
Volume 11
Volume 12
Volume 13
Volume 14
Volume 15
Volume 16
Volume 17
Volume 18
Volume 19
Volume 20
Volume 21
Volume 22
Volume 23
Volume 24
Volume 25
Volume 26
Volume 27
Volume 28
Volume 29
Volume 30
Volume 31
Volume 32
Volume 33
Volume 34
Volume 35
Other
References