Takumi Nishio (西尾 拓美, Nishio Takumi, born June 17, 1967 in Tokyo, Japan) is a former actor, singer, and voice actor. Nishio now works as a chef. He married his wife Tomomi Nishimura in 1997.
Nishio voiced Tsukasa Domyoji in the Hana Yori Dango drama CDs. He is the first person to portray Tsukasa.
Biography
Career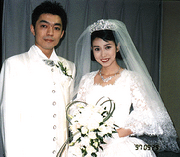 Nishio began working as a voice actor under the name,
Takumi Nishio
(西尾 巧)
in the late 1980s. In 1988, he joined a male idol group name CHA-CHA, which was disbanded in 1994. Nishio retired from being a singer and actor in 1996. After retirement, he began working as a chef and restaurant manager in
Shibuya, Tokyo
.
Personal life
On September 17, 1997, he married actress and singer, Tomomi Nishimura.
Selected filmography
Drama CDs
Notes
References
External links