Tama
"I have been the head of housekeeping in this mansion for 60 years. You remember the final words of your father-in-law, don't you? You were to take care of me until the day I breathe my last breath."
—Tama is one of few to stand up to Kaede Domyoji
Tama (タマ, Tama) is the head housekeeper at the Domyoji's residence in Tokyo, Japan.
Biography
Early life
Tama married her husband at a young age. He worked for the city, before dying in World War II, when Tama was nineteen. After her husband's death, her house burned down and her family died. She was found by the former head of the Domyoji family, Tsukasa's grandfather. Tama dedicated her life to working for him, and in return the Domyoji family will take care of her until her death.[2]
Tama became head maid about sixty years prior.[1]
Out of retirement
Physical appearance
Personality and traits
Behind the scenes
See also: Category:Tama portrayals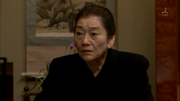 Sumie Sasaki portrayed Tama in seven episodes of Hana Yori Dango Returns. In episode six, Tsukushi begins working as a maid under Tama's tutelage.[3] Tama is supportive of Tsukushi's and Tsukasa's relationship, unlike his mother. Over time, Tama and Tsukushi develop a close student-teacher relationship.[4] Natsuko Tanaka portrayed a young Tama in a photograph for episode eight.
Appearances
| | |
| --- | --- |
| Other | |
References
Ad blocker interference detected!
Wikia is a free-to-use site that makes money from advertising. We have a modified experience for viewers using ad blockers

Wikia is not accessible if you've made further modifications. Remove the custom ad blocker rule(s) and the page will load as expected.