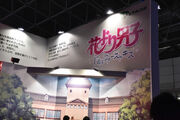 Tokyo Game Show (東京ゲームショウ, Tōkyō Gēmu Shō), often abbreviated TGS, is convention held every September at the Makuhari Messe center in Chiba, Japan. The convention showcases all kinds of Japanese games and is open to the general public on the final two days every year.
Voltage had a booth located in Hall 6[1] from September 17 to 20, 2015, showcasing Hana Yori Dango: F4 and First Kiss, Princess in the Mirror: Love Palace, and Scandal in the Spotlight.
Event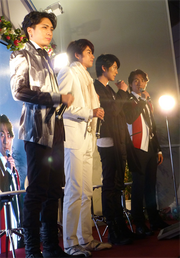 During the event,
Voltage
had actors dressed as their characters from
Princess in the Mirror: Love Palace
(鏡の中のプリンセス Love Palace)
and
Scandal in the Spotlight
(偽りの君とスキャンダル)
.
[2]
Two men dressed as butlers were placed in the
Hana Yori Dango: F4 and First Kiss
booth as guides to the world of the app.
[3]
Yuya Matsushita, Jin Shirasu, Mackenyu, and Ryuji Kamiyama from Hana Yori Dango: The Musical had their first appearance as the F4 at the game show on September 19.[4] They held a question panel that lasted for twenty minutes.[5]
Campaign
Voltage had a campaign titled "Ikemen Battle" (イケメンBATTLE, "Ikemen Battle"), where people would vote for their favorite guy by tweeting at Voltage. The applicants were required to have a Twitter account, and eight were entered into a lottery to win an iTunes or Google Play gift card worth 3,000 yen.[6] Takashi Maeda (前田 剛史, Takashi Maeda) was announced as the winner on September 20, 2015.[3][7]
References
External links
Ad blocker interference detected!
Wikia is a free-to-use site that makes money from advertising. We have a modified experience for viewers using ad blockers

Wikia is not accessible if you've made further modifications. Remove the custom ad blocker rule(s) and the page will load as expected.