Umi Nakajima

Character information
Name in Japanese
中島 海
Name in Chinese
Name in Hangul
Romanization
Nakajima Umi
Nicknames
Gender
Female
Age
Born
Died
Hair color
Eye color
Occupations
Student
Residence
Family
Relationships
Education
M Academy
Affiliations
[Source]
Umi Nakajima (中島 海, Nakajima Umi) is a high school student at M Academy.[1] She befriended Tsukushi Makino and Tsukasa Domyoji, when Umi and Tsukasa were being treated at the same hospital.[2] Umi developed romantic feelings toward Tsukasa, before being rejected by him.[3]
Biography
Physical appearances
Personality and traits
Behind the scenes
See also: Category:Umi Nakajima portrayals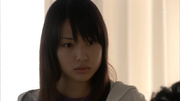 Erika Toda portrayed Umi in the last two episodes of Hana Yori Dango Returns. Like the manga, she meets Tsukushi and Tsukasa at the hospital she is staying at.[6] She begins to spend a lot of time with Tsukasa. Eventually, Umi confesses her feelings to Tsukasa, and tags along on the trip to the mountains. While there, Tsukasa catches on that she is not the one. Devastated, Umi tells Tsukushi a lie that Yuki was out in the snowstorm. She immediately regrets her actions and was thankful for their safe return. To say sorry, Umi helps push Tsukushi's family car.[7]
She also appeared in the video game, Hana Yori Dango: Koi Seyo Otome! (2008), presumably as a rival for Tsukasa's affections. Her hair is blonde in the game.[8]
Yoko Kamio posted a drawing and a comment about Umi on her Twitter on March 23, 2016.[9] She posted another photo of Umi the same day.[10]
Appearances
References
Ad blocker interference detected!
Wikia is a free-to-use site that makes money from advertising. We have a modified experience for viewers using ad blockers

Wikia is not accessible if you've made further modifications. Remove the custom ad blocker rule(s) and the page will load as expected.