"Wish" (ウィッシュ, "Wish") is a single by the Japanese band, Arashi. The single was released on November 16, 2005 on the label, J Storm. "Ichioku no Hoshi" and an audio commentary were included on the regular edition of the single.
It was used as the opening song for the Hana Yori Dango drama, which starred Arashi member, Jun Matsumoto as Tsukasa Domyoji.
Background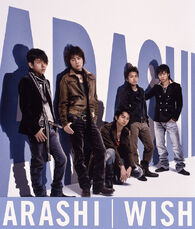 The single was released in both Regular and Limited editions. The song, "Ichioku No Hoshi" and a thirty-eight minute audio commentary, titled "Secret Talk", were featured on the regular edition. Reportedly in the commentary, Jun Matsumoto said that he took the part in
Hana Yori Dango
so Arashi could release "Wish". The limited edition included a different song, "Futari no Kinenbi".
"Wish" was later released on Arashi's sixth album, Arashic and J Storm's compilation album, All the BEST! 1999-2009. "Ichioku No Hoshi" and "Futari no Kinenbi" were also included on another J Storm compilation, Uraaramania.
The single reached the top of the Weekly Oricon charts and sold about 178,000 copies.[1] It was later certified Platinum by the Recording Industry Association of Japan.[2]
Track listing
Videos
Lyrics
街に愛の歌 流れはじめたら
人々は 寄り添い合う
輝きの中へ 僕は君をきっと
連れて行ってみせるよ, 街に愛の歌 流れはじめたら
人々は 寄り添い合う
輝きの中へ 僕は君をきっと
連れて行ってみせるよ
恋は届かない時を経験するうちに
強くなって ゆくものだね 切ない胸さえ, 恋は届かない時を経験するうちに
強くなって ゆくものだね 切ない胸さえ
君に似合いの男になるまでこの僕に
振り向いてはくれないみたい
手厳しい君さ, 君に似合いの男になるまでこの僕に
振り向いてはくれないみたい
手厳しい君さ
過ぎてく季節を美しいと思えるこの頃
君がそこにいるからだと知ったのさ
今こそ 伝えよう, 過ぎてく季節を美しいと思えるこの頃
君がそこにいるからだと知ったのさ
今こそ 伝えよう
街に愛の歌 流れはじめたら
人々は 寄り添い合う
輝きの中へ 僕は君をきっと
連れて行ってみせるよ, 街に愛の歌 流れはじめたら
人々は 寄り添い合う
輝きの中へ 僕は君をきっと
連れて行ってみせるよ
やさしい男になろうと試みてみたけど
君はそんな僕じゃ まるで物足りないんだね, やさしい男になろうと試みてみたけど
君はそんな僕じゃ まるで物足りないんだね
風当たり強い坂道ものぼって行けばいい
二人で生きてゆけるなら僕が君を守る
誓おう, 風当たり強い坂道ものぼって行けばいい
二人で生きてゆけるなら僕が君を守る
誓おう
街に愛の歌 流れはじめたら
人々は 微笑み合う
鐘の音(ね)響く時 僕は君をきっと
強く 抱きしめている, 街に愛の歌 流れはじめたら
人々は 微笑み合う
鐘の音(ね)響く時 僕は君をきっと
強く 抱きしめている
街に愛の歌 流れはじめたら
人々は 愛を語る
輝きの中へ 僕は君をきっと
連れて行ってみせるよ, 街に愛の歌 流れはじめたら
人々は 愛を語る
輝きの中へ 僕は君をきっと
連れて行ってみせるよ
君を愛し続ける, 君を愛し続ける
Machi ni ai no uta nagarehajimetara
Hitobito wa yorisoiau
Kagayaki no naka e boku wa kimi wo kitto
Tsurete itte miseru yo
Koi wa todokanai toki wo keiken suru uchi ni
Tsuyoku natte yuku mono da ne setsunai mune sae
Kimi ni niai no otoko ni naru made kono boku ni
Furimuite wa kurenai mitai tekibishii kimi sa
Sugiteku kisetsu wo utsukushii to omoeru konogoro
Kimi ga soko ni iru kara da to shitta no sa
Ima koso tsutaeyou
Machi ni ai no uta nagarehajimetara
Hitobito wa yorisoiau
Kagayaki no naka e boku wa kimi wo kitto
Tsurete itte miseru yo
Yasashii otoko ni narou to kokoromite mita keredo
Kimi wa sonna boku ja marude monotarinain da ne
Kaze atari tsuyoi sakamichi mo nobotte ikeba ii
Futari de ikite yukeru nara boku ga kimi wo mamoru
Chikaou
Machi ni ai no uta nagarehajimetara
Hitobito wa hohoemiau
Kane no oto hibiku toki boku wa kimi wo kitto
Tsuyoku dakishimete iru
Machi ni ai no uta nagarehajimetara
Hitobito wa ai wo kataru
Kagayaki no naka e boku wa kimi wo kitto
Tsurete itte miseru yo
Kimi wo ai shitsuzukeru
References
See also
External links