Yoko Kamio is a mangaka (manga artist) best known for creating the shojo series, Boys Over Flowers in 1992. She has written and illustrated over seven series, such as Cat Street and Crown of Thorns, and several short stories, including "End of the Century" and "Night of the Crescent Moon". Kamio is currently working on Boys Over Flowers Season 2, which is published online on Shonen Jump+.
Kamio penned several short stories and one series before Boys Over Flowers, including the five-volume Mary-san no Hijitsu in 1991. She followed her romantic-comedy Boys Over Flowers with the serious drama, Cat Street in 2004. Kamio is also the author of Matsuri Special, Tora to Okami, and Crown of Thorns.
Early works
Story collections
Before she graduated from college[1] in 1986, Yoko Kamio debuted with the short story, "I'll Remain 20 While I Wait for You"[2] or "Waiting Until 20"[3] (はたちのままで待ってる, Hatachino Mamade Matteiru) in the nineteenth issue of The Margaret (ザ マーガレット, The Margaret). Kamio followed her debut with the publication of three short story collections, Sayonara o Arigato (さよならをありがとう, Sayonara o Arigato) and Ano Hi ni Aitai (あの日に逢いたい, Ano Hi ni Aitai) in 1989, and Suki Suki Daisuki (スキスキ大好き, Suki Suki Daisuki "I Really, Really Like You") in 1990.[4][5][6]
Mary-san no Hijitsu
Kamio began serializing her first long series around 1991. The series, Mary-san no Hijitsu (めりーさんの羊, Mary-san no Hijitsu "Mary's Lamb")[6] was published into five volumes by 1992. The story follows a young girl named Merii, who has grown up around women only and also attended an all-girls school. She transfers to a predominately male co-ed school, where she experiences love and heartbreak for the first time.[4] Kamio's friends described the series as "too provocative" and expressed disbelief that the shy Kamio authored it.[10]
Series
Boys Over Flowers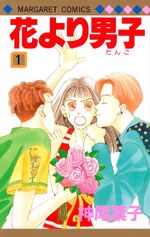 Main article: Boys Over Flowers
In 1992, Yoko Kamio began publishing her hit manga Boys Over Flowers in the March issue of Margaret. The series centers around pauper, Tsukushi Makino at the prestigious Eitoku Academy. The school is controlled by four boys, Tsukasa Domyoji, Rui Hanazawa, Sojiro Nishikado, and Akira Mimasaka, known as the F4. Tsukushi stands up to the clique's leader, Tsukasa, who falls in love with her. The story ran for two-hundred and forty-one chapters, ending in 2003.[2]
It won the 41st Shogakukan Manga Award for the shojo category in 1996.[16] The series is currently the best-selling shojo manga of all time, having sold over 53 million copies[17] with a total of 61 million copies in circulation.[18]
Cat Street
Kamio followed Boys Over Flowers with a "serious manga",[2] Cat Street (キャットストリート, Kyatto Sutorīto). The manga was published in Bessatsu Margaret from August 2004 to October 2007. Cat Street shows the development of Keito Aoyama, a traumatized former child star, as she returns back to the real world. She finds "El Liston", a school for outsiders like her and her newfound friends.
Kamio ended the series with a side story titled, "It's Not the End of the World - Another Cat Street" (世界が終わるわけじゃない ~もうひとつのキャットストリート~, "It's Not the End of the World - Another Cat Street") in August 2008 issue of Bessatsu Margaret.[19][20] The series was reprinted into five volumes in bunkobon format in 2011. The fifth volume included the side story printed in 2008 and an afterword by Kamio.[21] Cat Street was adapted into a six-episode television drama in 2008.
Matsuri Special
Matsuri Special (まつりスペシャル, Matsuri Supesharu) debuted in the December 2007 issue of the shonen magazine, Jump Square.[35] The series features Matsuri, who works as the masked wrestler, "Honey Princess". In this romantic comedy, Matsuri tries her best to live a normal life, while simultaneously keeping her private life secret. Matsuri Special concluded in 2009 with four volumes.[36] Kamio also drew a side story, "Matsuri Special SP", which was published in the July 2009 issue of Deluxe Margaret.[37][38]
Volume listing
#
Cover
Release date
ISBN
Chapters
1
June 4, 2008[39]
408874599X

Battle 1: おまつり人生に完敗

Battle 2: どんだけMですか?

Battle 3: ひ蜜のトモダチ

Battle 4: 私のカは誰のために

Battle 5: 知子のスクープ

Battle 6: あたしらしく進もう

2
November 4, 2008[40]
4088745396

Battle 7: 嘘ばかりの毎日

Battle 8: 負けられない闘い

Battle 9: 言えない决心

Battle 10: ユウウツな放課後

Battle 11: 大きな背中

3
June 4, 2009[41]
4088746570

Battle 12: 憧れのスタイル

Battle 13: ほつれる真心

Battle 14: 一番のファンだから

Battle 15: 初めての・・・決意

Battle 16: まごころスピリッツ

4
November 4, 2009[42]
4088747550

Battle 17: 告げられた真意

Battle 18: 騙してたわけじゃない

Battle 19: 5年前の別離

Last Battle: まついスペシャル!

Extra Battle: 遠くにいる君ヘ
Tora to Okami
Tora to Okami (虎と狼, Tora to Ōkami) began as a one-shot published in the December 2009 issue of Bessatsu Margaret.[43] Kamio launched the story as a series in the March 2010 issue. The series depicts a BL (Boys' Love) fanatic, Mii Torisawa, who helps run her family's restaurant. One day two young college students, Tora and Okami, come to eat at the restaurant, turning her life upside down.[44] Tora to Okami concluded in the January 2012 issue of Bessatsu Margaret[45] and was collected into six volumes.
Crown of Thorns
Kamio began her manga, Crown of Thorns (いばらの冠, Ibara no Kanmuri) in the May 2013 issue of Bessatsu Margaret.[52] The manga ended a year later in the April 2014 issue. The story follow Nobara Fukami, who has the ability to see strange things. One day a man approaches her claiming to be the devil.[53] Viz Media licensed the series for a digital release in North America. The first volume became available on December 8, 2015.[54]
Volume listing
#
Japanese cover
Viz cover
Release dates
ISBN
Chapters
1
October 25, 2013[55]
December 8, 2015[56]
4088451155

case1
case2
case3
case4
case5
case6

2
May 23, 2014[57]
February 9, 2016[58]
4088452135

case7
case8
case9
case10
case11
Last case
"When a Hero Calls"
Boys Over Flowers Season 2
Main article: Boys Over Flowers Season 2
Yoko Kamio launched the sequel to Boys Over Flowers, titled Boys Over Flowers Season 2, on February 15, 2015 on Shonen Jump+. The series is released biweekly on Sundays. It is also her first manga to be published simultaneously in Japan and America.[59][60] The story centers around Oto Edogawa as she tries to avoid being kicked out of Eitoku Academy for being a "peasant".
Short stories
Books
References