"No? What kanji does her name use?"

The title of this article is conjectural. Although it is based on canonical information, the actual name is conjecture and may be supplanted at any time by additional information released from canonical sources. If this occurs, please move this page to the appropriate title.
Matsuoka (松岡, Matsuoka) is the mother of two daughters, including Yuki Matsuoka.
Biography
Behind the scenes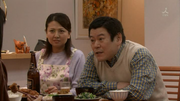 Rie Hiki portrayed Yuki's mother in the ninth episode of Hana Yori Dango Returns. She and her husband allow Tsukushi to stay in their home for a time, since they have known her so long. The company that her husband works for was indirectly affiliated with Domyoji Group, causing them to worry financially about their situation. Her older daughter does not seem to exist in the drama.[1]
Appearances
References
Ad blocker interference detected!
Wikia is a free-to-use site that makes money from advertising. We have a modified experience for viewers using ad blockers

Wikia is not accessible if you've made further modifications. Remove the custom ad blocker rule(s) and the page will load as expected.